The Troubled Girls of Dragomir Academy (Hardcover)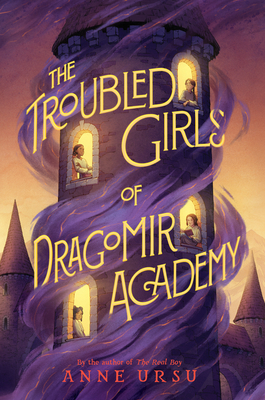 $17.99

Usually Ships in 1-5 Days
November/December 2021 Kids Indie Next List
---
"A magical story about twisted truths, power, and sisterhood as the girls of Dragomir Academy question what they've been taught to believe about themselves, and ultimately find power in discovering hidden histories and support in each other."
— Eija Sumner, BookPeople of Moscow, Moscow, ID
Description
---
From the acclaimed author of The Real Boy and The Lost Girl comes a wondrous and provocative fantasy about a kingdom beset by monsters, a mysterious school, and a girl caught in between them.
If no one notices Marya Lupu, is likely because of her brother, Luka. And that's because of what everyone knows: that Luka is destined to become a sorcerer.
The Lupus might be from a small village far from the capital city of Illyria, but that doesn't matter. Every young boy born in in the kingdom holds the potential for the rare ability to wield magic, to protect the country from the terrifying force known only as the Dread. 
For all the hopes the family has for Luka, no one has any for Marya, who can never seem to do anything right. But even so, no one is prepared for the day that the sorcerers finally arrive to test Luka for magical ability, and Marya makes a terrible mistake. Nor the day after, when the Lupus receive a letter from a place called Dragomir Academy—a mysterious school for wayward young girls. Girls like Marya.
Soon she is a hundred miles from home, in a strange and unfamiliar place, surrounded by girls she's never met. Dragomir Academy promises Marya and her classmates a chance to make something of themselves in service to one of the country's powerful sorcerers. But as they learn how to fit into a world with no place for them, they begin to discover things about the magic the men of their country wield, as well as the Dread itself—things that threaten the precarious balance upon which Illyria is built.
About the Author
---
Anne Ursu is the author of the acclaimed novels The Troubled Girls of Dragomir Academy, The Lost Girl, Breadcrumbs, and The Real Boy, which was longlisted for the National Book Award. The recipient of a McKnight Fellowship Award in Children's Literature, Anne lives in Minneapolis with her family and an ever-growing number of cats.
Praise For…
---
"Through Ursu's hallmark thoughtful and inspiring writing, readers delve into a story that seamlessly combines intriguing worldbuilding that is full of magic with a feminist perspective that interrogates the systemic oppression at society's core. Marya's developing relationships with her classmates as well as with her brother form the beating heart of the book. But it's Marya's inner conflict as she asks the question, "Who does the story serve?" and considers what she has always been told about herself that elevates this tale into unmissable territory. A wonderful and inspiring feminist fantasy." — Kirkus Reviews (starred review)
Via a winningly curious protagonist who has a keen interest in the truth, Ursu weaves a layered tapestry—filled with close-knit relationships and a well-explained, intriguing world—that questions authority, misogyny, and whom a story serves — Publishers Weekly
"An accessible, timely school story with a rather Transylvanian flavor to its fantasy setting. Ursu explores girls' conditioning in timidity and shame in a male-dominated world and, ultimately, envisions a hopeful, female-determined future of magical ability." — Horn Book Magazine
"Readers present for the tale's magical trappings and interwoven intrigue won't be disappointed, and they'll welcome Marya's determination to assert herself as powerful in her own right." — Booklist
"The remarkable Anne Ursu here crafts a wondrous fantasy set in a colorfully described medieval world of sorcery and magic, yet conveying a very contemporary-feeling and empowering feminist message. It's a thrilling coming-of-age novel featuring a feisty heroine, an ornery goat, an insufferable headmaster and intricate tapestries with coded messages." — Buffalo News
"A suspenseful tale woven with secrets and magic, with a gasp-worthy twist at the end, The Troubled Girls of Dragomir Academy is everything I love about fantasy. Spell-binding." — Christina Soontornvat, Newbery Honor-winning author of A Wish in the Dark
"Anne Ursu practices her own brand of sorcery—the ability to craft wondrous, magical stories that are unlike anything you've ever read. Another extraordinary tale from a remarkably talented author." — Erin Entrada Kelly, Newbery Medal-winning author of Hello, Universe
"A thoughtful and incisive story of lies told to control people and the complicated girls who ask questions, push back, and keep fighting." — Tui Sutherland, New York Times-bestselling author of the Wings of Fire series
"It's no secret that Anne Ursu is a gifted storyteller.  The Troubled Girls of Dragomir Academy is intricately plotted and compulsively readable, with characters who will stay with you long after you stop reading. I could not put it down." — Aisha Saeed, New York Times bestselling author of Amal Unbound
"The Troubled Girls of Dragomir Academy manages the particular magic of being both a true fantasy novel and a clear-eyed reflection of the here-and-now. Bighearted, generous, and outstandingly original, this is a story only Anne Ursu could write." — Elana K. Arnold, award-winning author of The House That Wasn't There