The Runaway Bunny: A 75th Anniversary Retrospective (Hardcover)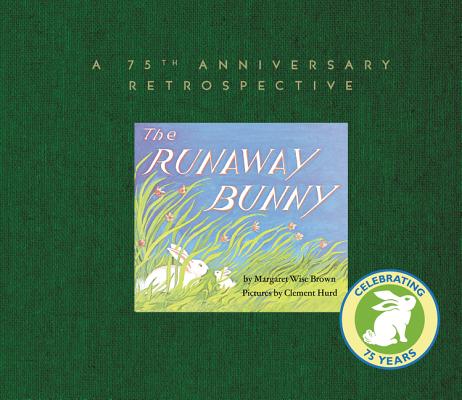 Description
---
HBO Max animated special premieres March 25, 2021!
Celebrate the 75th anniversary of The Runaway Bunny, by beloved children's book author Margaret Wise Brown and illustrator Clement Hurd. With foil stamping on the linen case cover and a commemorative foil sticker, this special edition is a must-have for collectors and children's book fans.
The Runaway Bunny, first published in 1942 and never out of print, has indeed become a classic. This beautiful 75th anniversary edition includes the original picture book followed by a 32-page retrospective look with lively anecdotes, exclusive photographs, and archival material.
Also features an essay by noted children's book historian Leonard S. Marcus.
About the Author
---
Margaret Wise Brown, cherished for her unique ability to convey a child's experience and perspective of the world, transformed the landscape of children's literature with such beloved classics as Goodnight Moon and The Runaway Bunny. Other perennial favorites by Ms. Brown include My World; Christmas in the Barn; The Dead Bird; North, South, East, West; and Good Day, Good Night.
Clement Hurd (1908–1988) is best known for illustrating Goodnight Moon and The Runaway Bunny, the classic picture books by Margaret Wise Brown. He studied painting in Paris with Fernand Léger and others in the early 1930s. After his return to the United States in 1935, he began to work in children's books. He illustrated more than one hundred books, many of them with his wife, Edith Thacher Hurd, including the Johnny Lion books, The Day the Sun Danced, and The Merry Chase. A native of New York City, he lived most of his life in Vermont and California.
Clement Hurd (1908–1988) se graduó de Yale University. Estudió pintura en París en los años 1930 con Fernand Léger, entre otros. Allí fue donde desarrolló su estilo característico, compuesto de colores de fuerte contraste. Hurd estuvo casado con la escritora Edith Thacher Hurd, con quien también creó muchos libros que se convirtieron en favoritos de los niños.
Leonard S. Marcus is a historian, biographer, and critic whose many books include Margaret Wise Brown: Awakened by the Moon; Dear Genius: The Letters of Ursula Nordstrom; and Storied City. In addition, he has been Parenting magazine's children's book reviewer since 1987. This is his first picture book. He lives in Brooklyn, New York, with his wife, Amy Schwartz, and their son, Jacob.