Rainforest Home Remedies: The Maya Way To Heal Your Body and Replenish Your Soul (Paperback)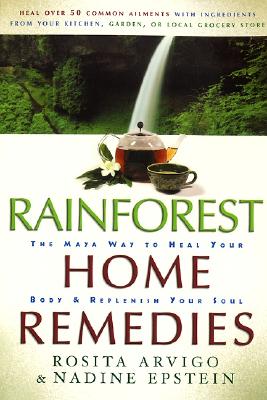 $15.99

Usually Ships in 1-5 Days
Description
---
Rainforest Healing from Your Home and Garden
Find alternatives to chemical anti-depressants and painkillers in your spice rack.
Learn about natural anti-itch salves for insect bites.
Soothe and relieve envy, grief, sadness, and fear the Maya way.
Rid your house of negative energy with a Maya cleansing ritual.
Try the easy-to-make bronchitis remedy.
About the Author
---
Rosita Arvigo was born in Chicago and trained in the United States as a doctor of naprapathy. In addition to her natural healing practice in Belize, Arvigo is the founder of Belize's six-thousand-acre Terra Nova Medicinal Plant Reserve, the founder of Ix Chel Tropical Research Foundation, the cofounder of Rainforest Remedies, and the creator of the Panti Mayan Medicine Trail, a popular and educational tribute to Don Elijio

Nadine Epstein is a writer and illustrator. Their previous book together was Sastun: My Apprenticeship with a Maya Healer.
Praise For…
---
Our disconnection from nature is a serious cause of illness. Rosita Arvigo and Nadine Epstein help us to remember our connection with plants that can heal us as the authors bring us back home to a sacred way of life. — Sandra Ingerman, author of Soul Retrieval and Medicine for the Earth
A stimulating, information-filled, and well-organized account of the main features of contemporary Maya folk medicine. — Michael Harner, PhD., author of The Way of the Shaman
"A practical guide to healthy living and traditional herbal wisdom, blended artfully with an insightful view of common modern ailments. Full of stories; a refreshing view of wellness and sane living that is so needed today." — Christopher Hobbs, 4th generation herbalist, licensed acupuncturist and author of 20 books on health and herbs, including Herbal Remedies for Dummies
Rosita, thank you for bringing these precious thoughts, so comprehensively done, to the healing world. Its banquet will feed our new hospital. If we are to survive as a species, it will be because ideas like these become important again. — Patch Adams, MD