Woody Allen: Life and Legacy: A Travesty of a Mockery of a Sham (Hardcover)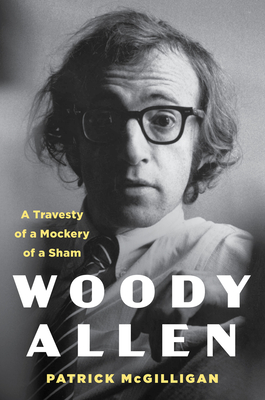 $50.00

Coming Soon - Available for Pre-Order Now
Description
---
The acclaimed film biographer and author of Young Orson and Funny Man returns with the definitive look at the life and legacy of Woody Allen.
The writer, director, and frequent star of more than fifty popular, award-winning, and internationally successful pictures over seven decades of filmmaking, Woody Allen is one of the most consequential American cultural figures of our time. Yet this national icon has fallen from grace nowadays. In this even-handed biography, Patrick McGilligan explores the public rise and fall of this hilarious comedian with a serious bent in his work, whose singularity and non-conformity has proved an Achilles heel.   
 This is the most comprehensive portrait of the creative prodigy that is Woody Allen. Drawing on exhaustive research, McGilligan brilliantly reconstructs Allen's misbegotten Brooklyn boyhood and salad days as a comedy writer for Sid Caesar and other television personalities, his struggles to connect with audiences as a bright stand-up comedian, his sidelines as a New Yorker writer and Broadway playwright, and his first side-splitting movies as writer, director, and star, leading to his Oscar-winning Annie Hall and golden years, in the 1970s and 80s, of making some of his best films still beloved by fans.  But it is also a scrupulous account of the darker side of Allen, his three marriages, famous liaisons and furtive flings, and especially his tumultuous personal and professional relationship with actress Mia Farrow, his affair with her daughter, Soon-Yi Previn, and the alleged abuse of his adopted daughter Dylan. McGilligan presents the known facts, parsing questions of guilt and innocence, and examines the case, with its charges and countercharges that accrue to the present day.
 McGilligan's compelling biography astutely links the ideas and themes of Allen's career to his singular personality and character. He makes it clear Allen is a writer's writer, and that beyond the smoke and controversy, no American filmmaker has had a greater cultural impact; none has been as creative, productive, or influential in his lifetime.
About the Author
---
Patrick McGilligan is the author of Alfred Hitchcock: A Life in Darkness and Light; Fritz Lang: The Nature of the Beast; and George Cukor: A Double Life; and books on the lives of directors Nicholas Ray, Robert Altman, and Oscar Micheaux, and actors James Cagney, Jack Nicholson, and Clint Eastwood. He also edited the acclaimed five-volume Backstory series of interviews with Hollywood screenwriters and (with Paul Buhle), the definitive Tender Comrades: A Backstory of the Hollywood Blacklist. He lives in Milwaukee, Wisconsin, not far from Kenosha, where Orson Welles was born.