Babel: Or the Necessity of Violence: An Arcane History of the Oxford Translators' Revolution (Hardcover)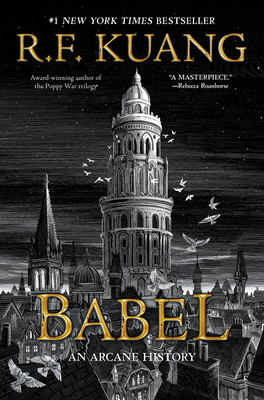 $27.99

Usually Ships in 1-5 Days
Staff Reviews
---
BABEL is a beautifully written historical fantasy filled with rhetorical semantics, linguistic nuance, and etymological minutiae; Kuang never shies away from the Oxfordian roots of this novel. By owning them and fully embracing the genre of "dark academia," she crafts an engrossing world, a reflection of England in the 1800s but delicately warped with astounding precision.
This distortion displays the English language and its Empire as one and the same; a hodgepodge of plundered pieces from across the globe, stolen away with no credit and claimed as wholly original, a culture that prides itself on innate supremacy whilst built on the backs of looted countries. At the heart of this sweeping colonization is Babel, home of the Royal Institute of Translation and the source of the Empire's supremacy. The students trained there use the magic of meanings lost in translation, imbued into silver, to shape the world.
Robin and his cohort are simply the latest in a long line of students snapped up from their homes and absorbed by Babel in the pursuit of more knowledge, more power. All four are brilliant, authentic, and heart-breakingly human; each has their own complex and complicated relationship with their school and the government it supports; each has their own method of trying to exist in a system fundamentally hostile towards them. Eventually Robin can no longer ignore the extent of imperial exploitation and he must choose between settling for the seemingly comfortable life of tacitly aiding in oppression or seeking to liberate himself and the world from Britain's silver shackles.
With this dazzling and erudite tome Kuang accomplishes a feat of literary alchemy as magical as the silver workers in her fictional Babel; a true exploration of the beauty and power of language and the inherent violence of translation and change.
— From
Jordan's Picks
September 2022 Indie Next List
---
"Finishing a book like this is equal parts pleasure and pain: pleasure in reading something so striking and beautiful juxtaposed by the pain of it ending. Few books have brought tears to my eyes; Kuang's Babel is now numbered among them."
— Maxwell Leaning, Paragraphs Bookstore, Mount Vernon, OH
Description
---
Instant #1 New York Times Bestseller from the author of The Poppy War  
"Absolutely phenomenal. One of the most brilliant, razor-sharp books I've had the pleasure of reading that isn't just an alternative fantastical history, but an interrogative one; one that grabs colonial history and the Industrial Revolution, turns it over, and shakes it out." -- Shannon Chakraborty, bestselling author of The City of Brass
From award-winning author R. F. Kuang comes Babel, a thematic response to The Secret History and a tonal retort to Jonathan Strange & Mr. Norrell that grapples with student revolutions, colonial resistance, and the use of language and translation as the dominating tool of the British empire.
Traduttore, traditore: An act of translation is always an act of betrayal.
1828. Robin Swift, orphaned by cholera in Canton, is brought to London by the mysterious Professor Lovell. There, he trains for years in Latin, Ancient Greek, and Chinese, all in preparation for the day he'll enroll in Oxford University's prestigious Royal Institute of Translation—also known as Babel.
Babel is the world's center for translation and, more importantly, magic. Silver working—the art of manifesting the meaning lost in translation using enchanted silver bars—has made the British unparalleled in power, as its knowledge serves the Empire's quest for colonization.
For Robin, Oxford is a utopia dedicated to the pursuit of knowledge. But knowledge obeys power, and as a Chinese boy raised in Britain, Robin realizes serving Babel means betraying his motherland. As his studies progress, Robin finds himself caught between Babel and the shadowy Hermes Society, an organization dedicated to stopping imperial expansion. When Britain pursues an unjust war with China over silver and opium, Robin must decide…
Can powerful institutions be changed from within, or does revolution always require violence? 
About the Author
---
Rebecca F. Kuang is the #1 New York Times and #1 Sunday Times bestselling author of the Poppy War trilogy, Babel: An Arcane History, and Yellowface. Her work has won the Nebula, Locus, Crawford, and British Book Awards. A Marshall Scholar, she has an MPhil in Chinese Studies from Cambridge and an MSc in Contemporary Chinese Studies from Oxford. She is now pursuing a PhD in East Asian Languages and Literatures at Yale, where she studies diaspora, contemporary Sinophone literature, and Asian American literature.
Praise For…
---
"Babel has earned tremendous praise and deserves all of it. It's Philip Pullman's The Golden Compass by way of N.K. Jemisin's The Fifth Season: inventive and engaging, passionate and precise. Kuang is fiercely disciplined even when she's playful and experimental … Like the silver bars at its heart—like empires and academic institutions both—Babel derives its power from sustaining a contradiction, from trying to hold in your head both love and hatred for the charming thing that sustains itself by devouring you."  — New York Times Book Review
"A fantastical takedown of 19th-century imperialism that's as meaty as its title. R.F. Kuang proved her prowess at blending history and magic with her debut series, The Poppy War, and she's done it once again in this sweeping novel that blends historical fantasy and dark academia…If, as Babel suggests, words contain magic, then Kuang has written something spellbinding." — Oprah Daily
"Absolutely phenomenal. One of the most brilliant, razor-sharp books I've had the pleasure of reading that isn't just an alternative fantastical history, but an interrogative one; one that grabs colonial history and the Industrial Revolution, turns it over, and shakes it out." — S.A. Chakraborty, bestselling author of The City of Brass
"A fantastically made work, moving and enraging by turns, with an ending to blow down walls." — The Guardian
"Kuang follows her award-winning Poppy War trilogy with an engaging fantasy about the magic of language. Her richly descriptive stand-alone novel about an ever-expanding, alternate-world empire powered by magically enhanced silver talismans scrutinizes linguistics, history, politics, and the social customs of Victorian-era Great Britain." — Booklist (starred review)
"It's ambitious and powerful while displaying a deep love of language and literature...Dark academia as it should be."
— Kirkus Reviews
"The true magic of Kuang's novel lies in its ability to be both rigorously academic and consistently welcoming to the reader, making translation on the page feel as enchanting and powerful as any effects it can achieve with the aid of silver." — Oxford Review of Books
"R.F. Kuang has written a masterpiece. Through a meticulously researched and a wholly impressive deep dive into linguistics and the politics of language and translation, Kuang weaves a story that is part love-hate letter to academia, part scathing indictment of the colonial enterprise, and all fiery revolution."
— Rebecca Roanhorse, New York Times bestselling author of Black Sun  
"Babel is a masterpiece. A stunningly brilliant exploration of identity, belonging, the cost of empire and revolution—and the true power of language. Kuang has written the book the world has been waiting for." — Peng Shepherd, bestselling author of The Cartographers
"Kuang has outdone herself. Babel is brilliant, vicious, sensitive, epic, and intimate; it's both a love letter and a declaration of war. It's a perfect book."
— Alix E. Harrow, bestselling author of A Mirror Mended
"A brilliant and often harrowing exploration of violence, etymology, colonialism, and the intersections that run between them. Babel is as profound as it is moving."
>  — Alexis Henderson, author of The Year of the Witching
"An astonishing mix of erudition and emotion. What Kuang has done here, I have never before seen in literature." — Tochi Onyebuchi, author of Goliath
"If you only read one book this year, read this one. Through the incredibly believable alternative HF, Kuang has distilled the truth about imperialism and colonization in our world. Kuang's depth of knowledge of history and linguistics is breathtaking. This book is a masterpiece in every sense of the word, a true privilege to read."  — Jesse Sutanto, author of Dial A for Aunties
"A book that confirms Kuang as a major talent." — SFX
"BABEL is one of the finest standalone novels I've read. It is a victory for literature, and its quality is what every other dark academia novel should strive to be. Paying homage to the importance of languages, translations, identity, and ethnicities, BABEL is one of the most important works of the year." — Novel Notions
"Babel is ambitious, engaging, impactful, and executed with brutal effectiveness." — reader@work