Rust in the Root (Hardcover)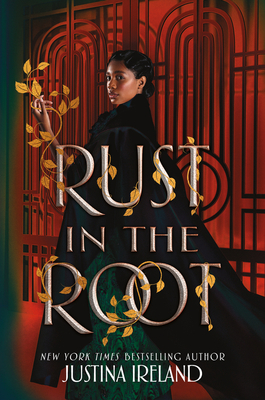 $18.99

Usually Ships in 1-5 Days
Staff Reviews
---
RUST IN THE ROOT is excellent. Ireland has raveled a story that is unique and innovative yet beguilingly familiar; a bold blend of alternative history and magical realism that explores the knotty intersection of power and society. 
In a world determined to fit her into just one box, Laura refuses to diminish herself to make others comfortable and dares to take up space. As she learns more about the power within her, she begins to see the larger picture; how interconnected the world and its magic-users are, how important it is to keep the balance, and how no one person can do it alone. 
This powerful story will resonate with readers and inspire them to interrogate our own history and the difficult questions it contains, questions with no easy answers but the potential for a lot of good. Hopefully this isn't the end of Laura's story since there is still so much of this richly envisioned world to explore. 
— Jordan
Description
---
The author of the visionary New York Times bestseller Dread Nation returns with another spellbinding historical fantasy set at the crossroads of race and power in America.
It is 1937, and Laura Ann Langston lives in an America divided—between those who work the mystical arts and those who do not. Ever since the Great Rust, a catastrophic event that blighted the arcane force called the Dynamism and threw America into disarray, the country has been rebuilding for a better future. And everyone knows the future is industry and technology—otherwise known as Mechomancy—not the traditional mystical arts.
Laura disagrees. A talented young queer mage from Pennsylvania, Laura hopped a portal to New York City on her seventeenth birthday with hopes of earning her mage's license and becoming something more than a rootworker.
But four months later, she's got little to show for it other than an empty pocket and broken dreams. With nowhere else to turn, Laura applies for a job with the Bureau of the Arcane's Conservation Corps, a branch of the US government dedicated to repairing the Dynamism so that Mechomancy can thrive. There she meets the Skylark, a powerful mage with a mysterious past, who reluctantly takes Laura on as an apprentice.
As they're sent off on their first mission together into the heart of the country's oldest and most mysterious Blight, they discover the work of mages not encountered since the darkest period in America's past, when Black mages were killed for their power—work that could threaten Laura's and the Skylark's lives, and everything they've worked for.
About the Author
---
Justina Ireland is the New York Times bestselling author of Dread Nation and its sequel, Deathless Divide, as well as Vengeance Bound and Promise of Shadows. She is also one of the creators of the Star Wars High Republic series, and is the author of the Star Wars adventures A Test of Courage, Out of the Shadows, and Mission to Disaster. She lives with her family in Maryland, where she enjoys dark chocolate and dark humor and is not too proud to admit that she's still afraid of the dark. You can visit her online at www.justinaireland.com.
Praise For…
---
"The bold narrative eerily echoes many of the issues that presently plague the country, describing the destructive nature of capitalism and the impact its oppression wreaks on a nation. Insightful, admirable, and well executed." — Kirkus Reviews (starred review)
"Delivers a knockout punch. Ireland mingles an in-depth understanding of human nature with a wildly ambitious reimagining of the Depression era, balancing matters of race, gender, and sexuality in this thoroughly unique perspective of historical magical fantasy." — Publishers Weekly (starred review)
"Tackles important social issues while providing an ­exciting and fast-paced adventure that's hard to put down."  — School Library Journal (starred review)
"Complex world-building rooted in dark events of American history is leavened by humor and a pace that rarely lags. The sheer breadth of imagination on display is extraordinary." — Booklist (starred review)
"Ireland has confidently merged the historical and the mystical into a fast-paced, complex, and entertaining read." — The Horn Book
"Justina Ireland sets her dazzling new novel, with its blistering critique of the nation's racist history, in 1936-37 during the "Great Rust"—a steampunk version of the Great Depression. Thrilling." — Buffalo News