Wei Skates On (Hardcover)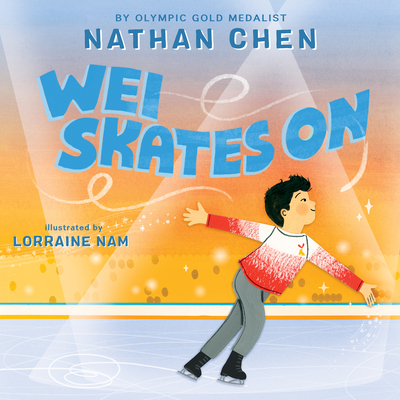 $19.99

Usually Ships in 1-5 Days
Description
---
Olympic gold medalist and three-time World Champion Nathan Chen delivers an inspirational picture book about facing your fears and finding the joy in sports, no matter the outcome. 
Wei has loved ice-skating ever since his first visit to the rink. He loves gliding across the ice, taking flight on jumps, and moving with the music—there's nothing else like it!
But as Wei's first big competition draws near, he begins to worry. He's been training hard, but what if he doesn't win? With help from Mom, can Wei find a way to handle his nerves? What would it feel like to skate without the pressure of winning? 
As the first Asian American man to win gold in figure skating, Nathan Chen is a celebrated role model for kids who want to shine on and off the ice. His uplifting message of positivity and perseverance makes this story the perfect choice for social emotional learning at home or in the classroom.
About the Author
---
Nathan Chen is a twenty-three-year-old American Olympic figure skater. He began skating at the age of three in his hometown of Salt Lake City after watching his two older brothers play hockey and his older sisters compete in figure skating. He has also trained in competitive gymnastics and ballet. At the 2017 U.S. Figure Skating Championships, Nathan became the first man in figure skating history to land five quadruple jumps in a single performance, and is the first Asian-American male skater to win U.S., World, and Olympic titles. He was named the 2019 Team USA Male Olympic Athlete of the Year and was included in the 2019 Forbes' 30 Under 30 list. Nathan is currently a student at Yale University, and in his spare time, plays the guitar and piano and enjoys basketball and tennis. He lives in Lake Forest, California.
Lorraine Nam is a paper illustrator and daydreamer. When she is not folding, gluing, and cutting things out of paper, she can be found cooking, reading, or traveling. She currently lives in Brooklyn, New York, and frequently looks out at the New York skyline from her studio window. On a clear night, she is able to see the occasional star. You can visit her online at lorrainenam.com.
Praise For…
---
"Chen draws on his experience as a figure skater and Olympic gold medalist in this uplifting story about finding joy in one's passion. Nam's graceful, color-saturated paint and paper collage art has a subtle 3D effect." — Publishers Weekly
"Nam's illustrations capture Wei's charming family life but are most impressive when revealing his strength and beauty on the ice; full-bleed spreads feel like slow-motion breakdowns of each jump. Any reader who has had fun chased aside by the pressure of expectations will find solace in this tale. An inspiring, invigorating story about the value of practice, perseverance—and joy!" — Kirkus Reviews