Lives Like Loaded Guns: Emily Dickinson and Her Family's Feuds (Paperback)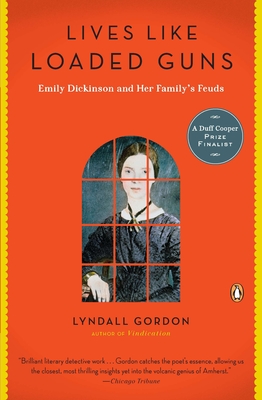 Staff Reviews
---
Karen: My favorite biography of 2010. A new look at her life... her relationship with her family... new conclusions about her lifetime seclusion.
— From
Karen's Picks
Description
---
"Lives Like Loaded Guns...reads like a fabulous detective story...[Gordon] takes us into undiscovered territory." —The Washington Post 

A great companion to fans of the film A Quiet Passion, starring Cynthia Nixon as Emily Dickinson and the new series Dickinson.

In 1882, Emily Dickinson's brother, Austin, began an adulterous love affair with the accomplished and ravishing Mabel Todd, setting in motion a series of events that would forever change the lives of the Dickinson family. Award-winning biographer Lyndall Gordon tells the story of the feud that erupted-and that still continues today. Making unprecedented use of letters, diaries, and legal documents, Gordon proposes a groundbreaking new solution to the secret behind the poet's insistent seclusion, presenting a woman beyond her time who found love, spirituality, and immortality all on her own terms.

The first major biography of Dickinson in nearly ten years, Lives Like Loaded Guns is a highly acclaimed story of creative genius, illicit passion, and betrayal that will forever change the way we view one of America's most important literary figures.
About the Author
---
Lyndall Gordon is a British writer and academic popular for her literary biographies on notable persons such as Emily Dickinson, Virginia Woolf, Charlotte Brontë, and T. S. Eliot. She received her undergraduate degree from the University of Cape Town and later went on to graduate with a doctorate from Columbia University in New York City. Her work has earned her many awards, including the British Academy's Rose Mary Crawshay Prize, the James Tait Black Memorial Prize, and the Cheltenham Prize for Literature. Gordon is now a Senior Research Fellow at St. Hilda's College, Oxford.
Praise For…
---
"Lives Like Loaded Guns...reads like a fabulous detective story, replete with hidden treasure, diabolical adversaries and a curse from one generation to the next...Gordon is fair to all...revealing their strengths and liabilities, and she corrects some of the inconsistencies of earlier biographies..."Abyss has no biographer," Dickinson warned future readers. But Gordon is not frightened of the pits and traps and the thousand masks that Emily wears. She takes us into undiscovered territory."
-The Washington Post

"Fascinating...[Gordon] shatters the Dickinson myth, revealing for the first time the twisted tale of how Dickinson came to be revered as "a harmless homebody shut off from live to suffer and contemplate a disappointment in love."...Brilliant literary detective work...Uncovering the mystery of why the mischievous, sensible creature who emerges from this biography hid from the world is where Gordon hits her stride...Gordon catches the poet's essence, allowing us the closest, most thrilling insights yet into the volcanic genius of Amherst."
-The Chicago Tribune

"The portrait of Emily Dickinson that emerges from this book is far more intriguing than the one I and no doubt many others have been carrying around in our head. Banished, the wisp of a girl in white flitting through the 19th- century gloom. Gone, the disappointed spinster with some ophthalmic abnormality. Erased, the "harmless homebody...shut off from life." And in their place a strange, seething creature filled with passion whose life was, in some fundamental sense, an exercise in control...It's what Gordon does with the poetry that is most compelling. A sensitive reader and a great admirer of Dickinson's work, Gordon is skillful at harnessing the poet's words in the service of her biography...It's a fascinating exercise in literary detection."
-The Boston Globe

"The tale that Lyndall Gordon unveils in Lives Like Loaded Guns is so lurid, so fraught with forbidden passions, that readers may be disappointed to find that no actual gun goes off in this feverish account of the Dickinson family "feuds." ... Gordon's suggestion that Dickinson may have been epileptic has already inspired debate among scholars...A vivid account."
-The New York Times Book Review

"Emily Dickinson, the seemingly demure and buttoned-up American poet, comes wonderfully to life in Lyndall Gordon's telling biography. In Lives Like Loaded Guns, she entertains fresh interpretations of the poet's life...Viewing the poet through the lens of 19th-century spin doctors is fresh and provocative."
-USA Today

"This astonishing book, written with common sense and compassion, will do nothing less than revolutionise the way in which Dickinson is read for years to come."
-The Economist

"The great virtue of Gordon's biography is that it makes Dickinson the person- sister, friend, seducer, adversary-seem as scary her poems...Gordon is the author of biographies...that are distinguished by their sharpness of focus and economy of scale. Rather than competing for our attention with the author in question, Gordon tells the whole life by concentrating on what she judges to be the most potent aspect of it."
-The Nation

"Mesmerizing...You wonder what this woman [Emily Dickinson] might have made of the lawyers and court trials and furor that continued for decades over her poems, found after her death locked in a cherrywood chest in her room. Other truths were locked there, too; Gordon, admiringly and wisely, hands us a key."
-The Seattle Times

"Lives Like Loaded Guns is a remarkable achievement that deconstructs the image of Dickinson so entrenched in literary history. Gordon, a gifted storyteller, charts the ugly family dramas not to exploit them, but to prove how truly damaging they were to the poet's legacy . . . This fascinating biography will inspire readers to return to Dickinson's vastly rich poems and letters - and it's her work for which she should be remembered, after all."
-Newsday

"The story that preoccupies Ms. Gordon, [is] one of illicit love and intellectual property rights... Few portraits of Emily Dickinson are as vivid, few explorations of a family feud more riveting...Through the use of letters, diaries and legal documents, Ms. Gordon sheds light on the Emily Dickinson of public perception ("a harmless homebody") and its fallacies, the secret she most likely carried and the costs of families split over possession."
-The Washington Times

"Lives Like Loaded Guns reads like page-turning fiction, but is grounded in Gordon's masterful use of historical archives. It utterly revises our notion of dour 19th century New Englanders, turning them into flesh and blood people driven by the same urges as us. Gordon is one of the best biographers writing today, and this volume a superlative example of how the genre can both entertain and instruct."
-Sacramento Book Review

"Gordon's thoroughly absorbing new biography gives one of the fullest accounts yet of both Emily Dickinsons-the woman herself and the poet, a creation fought over by warring factions in a literary struggle that lasted through two generations and continues to influence the way we understand this elusive poet. Ms. Gordon's extensively researched account synthesizes a century of scholarship and adds a stunning revelation or two for those who think they already know the story...Lives Like Loaded Guns is a fascinating book on so many different levels. If you thought you knew the whole story of Emily Dickinson, you probably don't. And if you don't, you really should. In all its twists and turns through generations spanning an American century, it remains an explosive story."
-Pittsburgh Post-Gazette

"A very different take on Emily Dickinson...Lives Like Loaded Guns: Emily Dickinson and Her Family's Feuds will keep Dickinson devotees busy for decades... Gordon sets Emily Dickinson's life and legacy in the context of an adulterous affair that split her family -- and offers a splendidly speculative challenge to portraits of the poet as a withdrawn eccentric."
-Minneapolis Star Tribune

"A fascinating account of [Mabel] Todd's contentious role in Dickinson's afterlife...[Gordon] puts forward one major new claim: based on medical records and family history, and...on the evidence of the poems themselves, she suggests that Dickinson was epileptic...Innovative."
-Slate Magazine

"Lyndall Gordon's new biography of Emily Dickinson's family, Lives Like Loaded Guns, is a tour de force. Meticulously researched and keenly argued, it transforms the conventional image of Dickinson-and reveals how that image came to be."
-Bookpage (Top Pick)

"There is more than enough drama to go around in Gordon's book-jealousies, deceit, the agonized shredding of wallpaper, even evidence of a mTnage a trios- and she often renders it in the plush detail of a pot-boiler. But beneath the operatic swell is an admirable amount of new information about Dickinson's world and the choices she made in the service of what she recognized as her magnificent gift. She was far more fierce than we've been led to believe, which makes perfect sense given the work she left behind."
-The Barnes & Noble Review, reprinted in Salon.com