Stanley Kubrick: American Filmmaker (Jewish Lives) (Hardcover)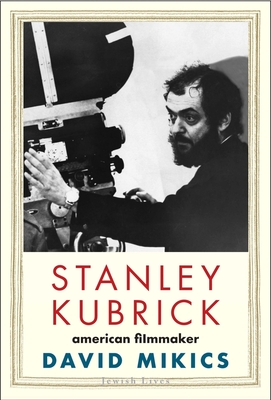 Description
---
An engrossing biography of one of the most influential filmmakers in cinematic history

"A cool, cerebral book about a cool, cerebral talent. . . . A brisk study of [Kubrick's] films, with enough of the life tucked in to add context as well as brightness and bite."—Dwight Garner, New York Times

"An engaging and well-researched primer to the work of a cinematic legend."—Library Journal

Kubrick grew up in the Bronx, a doctor's son. From a young age he was consumed by photography, chess, and, above all else, movies. He was a self‑taught filmmaker and self‑proclaimed outsider, and his films exist in a unique world of their own outside the Hollywood mainstream. Kubrick's Jewishness played a crucial role in his idea of himself as an outsider. Obsessed with rebellion against authority, war, and male violence, Kubrick was himself a calm, coolly masterful creator and a talkative, ever‑curious polymath immersed in friends and family.

Drawing on interviews and new archival material, David Mikics for the first time explores the personal side of Kubrick's films.
About the Author
---
David Mikics is Moores Distinguished Professor of English at the University of Houston, as well as a columnist for Tablet magazine. His most recent books are Bellow's People and Slow Reading in a Hurried Age.
Praise For…
---
"A cool, cerebral book about a cool, cerebral talent. . . . A brisk study of his films, with enough of the life tucked in to add context as well as brightness and bite."—Dwight Garner, New York Times

"Mikics is a forensic film critic, and fascinating on what might have been in Kubrick's career."—Ed Potton, The Times

"Mikics proves to be a perceptive critic...The result of his labours is an extremely useful primer for anyone wanting to learn more about Kubrick and his work. It's thoughtful, concise...and fluently written."—Tom Ryan, The Sydney Morning Herald

"Kubrick fans will enjoy this brisk but thorough biography of a consummate filmmaker."—Publishers Weekly

"An engaging and well-researched primer to the work of a cinematic legend."—Library Journal

"Happily, David Mikics's new book . . . is bracingly commonsensical and free from the combination of over-the-top awe and geeky obsessiveness that too often mars commentary on the director."—Peter Tonguette, National Review

"In this excellent book Mikics delivers an insightful exposition on the life and work of Stanley Kubrick. . . . Mikics emphasizes the filmmaker's meticulous attention to the important elements of filmmaking: source text, script, acting, casting, cinematography, lighting, set and production design, sound, and music. . . . Highly recommended."—Choice

CHOICE 2021 Outstanding Academic Title

"A joy to read . . . elegant and penetrating as both biography and film criticism. Mikics offers such persuasive arguments for the individual movies that I found myself continually rethinking them."—Molly Haskell, author of Steven Spielberg: A Life in Films