Cuando a la gente buena le pasan cosas malas / When Bad Things Happen to Good Pe ople (Paperback)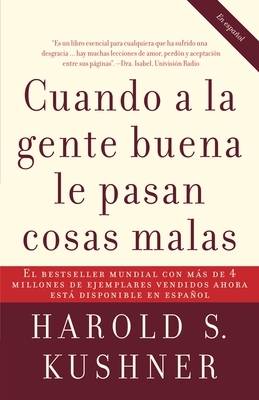 $14.00

Usually Ships in 1-5 Days
Description
---
Cuando su hijo fue diagnosticado a los tres años de edad con una enfermedad degenerativa que acortaría su vida en la adolescencia, Harold Kushner se enfrentó a una de las preguntas más angustiantes en la vida: ¿Por qué, Dios?

Años más tarde, el rabino Kushner escribió esta contemplación sencilla y elegante de las dudas y temores que surgen cuando una tragedia nos golpea la puerta. Kushner comparte su sabiduría como rabino, como padre, como lector y como ser humano. Con múltiples imitaciones que no han logrado superar este original, Cuando a la gente buena le pasan cosas malas es un clásico que nos ofrece pensamientos claros y consolación en períodos de dolor y tristeza.

ENGLISH DESCRIPTION

"The #1 bestselling inspirational classic from the nationally known spiritual leader; a source of solace and hope for over 4 million readers.

When Harold Kushner's three-year-old son was diagnosed with a degenerative disease that meant the boy would only live until his early teens, he was faced with one of life's most difficult questions: Why, God? Years later, Rabbi Kushner wrote this straightforward, elegant contemplation of the doubts and fears that arise when tragedy strikes. In these pages, Kushner shares his wisdom as a rabbi, a parent, a reader, and a human being. Often imitated but never superseded, When Bad Things Happen to Good People is a classic that offers clear thinking and consolation in times of sorrow."
About the Author
---
Harold S. Kushner es el rabino laureado del Templo Israel en Natick, Massachusetts, donde reside.
Praise For…
---
"Es un libro esencial para cualquiera que haya sufrido una desgracia en su vida... hay muchas lecciones de amor, perdón y aceptación entre sus páginas".
—Dra. Isabel, Univisión Radio

"Una de las virtudes de Kushner siempre ha sido su capacidad para empatizar, para comprender el dolor de otros a nivel personal y a compartir su sabiduría tierna en un modo accesible".
—The Plain Dealer

"Un libro tierno y conmovedor para aquellos que deben lidiar con el sufrimiento, y claro, esos somos todos". —Andrew M. Greeley

"Ya sea religioso o no, este libro impacta porque aborda —profœndamente pero sencillamente— preguntas que ninún padre y ninguna persona puede evitar".
—Harvey Cox, Escuela de Divinidad de Harvard

"Cuando a la gente buena le pasan cosas malas ofrece una perspectiva enternecedora y humana para comprender las tempestades de la vida".
—Elisabeth Kübler-Ross