Cycles of Time: An Extraordinary New View of the Universe (Paperback)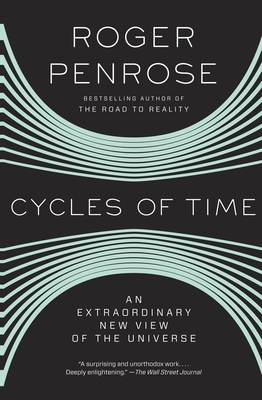 Description
---
From Nobel prize-winner Roger Penrose, this groundbreaking book is for anyone "who is interested in the world, how it works, and how it got here" (New York Journal of Books).

Penrose presents a new perspective on three of cosmology's essential questions: What came before the Big Bang? What is the source of order in our universe? And what cosmic future awaits us?
 
He shows how the expected fate of our ever-accelerating and expanding universe—heat death or ultimate entropy—can actually be reinterpreted as the conditions that will begin a new "Big Bang." He details the basic principles beneath our universe, explaining various standard and non-standard cosmological models, the fundamental role of the cosmic microwave background, the paramount significance of black holes, and other basic building blocks of contemporary physics. Intellectually thrilling and widely accessible, Cycles of Time is a welcome new contribution to our understanding of the universe from one of our greatest mathematicians and thinkers.


About the Author
---
Roger Penrose is Emeritus Rouse Ball Professor of Mathematics at Oxford University. He has received a number of prizes and awards, including the 2020 Nobel Prize in Physics for his work on black hole formation, as well as the 1988 Wolf Prize for physics, which he shared with Stephen Hawking for their joint contribution to our understanding of the universe. His books include Cycles of Time, The Road to Reality, The Nature of Space and Time, which he wrote with Hawking, and The Emperor's New Mind. He has lectured extensively at universities throughout America. He lives in Oxford.
Praise For…
---
"A surprising and unorthodox work. . . . Deeply enlightening."
     —The Wall Street Journal

"The hyper-density of this book made my brain feel simultaneously wiped out and dazzled."
     —Anthony Doerr, Best Science Books of the Year, The Boston Globe

"An intellectual thrill ride. . . . There's no science fiction here, no imaginative filling in the gaps. There is, however, a very strong scientific case for expanding the boundaries of our thinking." —Washington Independent Book Review
 
"Science needs more people like Penrose, willing and able to point out the flaws in fashionable models from a position of authority and to signpost alternative roads to follow." —The Independent

"If you'll forgive a skiing metaphor, Cycles of Time is a black diamond of a book. But like all steep slopes, sometimes you take a moment from your struggles and look up, and in front of you is an utterly gorgeous view." —The Boston Globe
 
"Truly extraordinary. . . . This fascinating book will surely become a classic in the history of cosmology." —Choice
 
 "Of interest to anyone who is interested in the world, how it works, and how it got here. . . . The best thing to do is to take a deep breath, grab a copy of this fascinating book, and plunge right in." —New York Journal of Books
 
 "We must understand why the universe began in an incredibly special state, so well ordered that 14 billion years later, the universe still has not reached maximum disorder. Penrose is at his best when he explains this deep and beautiful mystery, and the book may be worth reading for this chapter alone." —Science
 
"A genuinely new idea about the origins of the universe . . . [which] must be taken seriously." —The Scotsman
 
 "As uncondescending in style . . . as his previous books. . . . [There are] many pleasures to be had." —The Sunday Times (London)