Dearie: The Remarkable Life of Julia Child (Paperback)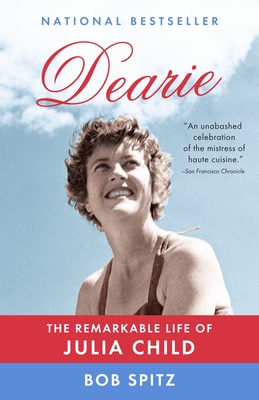 Description
---
NATIONAL BESTSELLER • A"rollicking biography" (People Magazine) and extraordinarily entertaining account of how Julia Child transformed herself into the cult figure who touched off a food revolution that has gripped the country for decades.

Spanning Pasadena to Paris, acclaimed author Bob Spitz reveals the history behind the woman who taught America how to cook. A genuine rebel who took the pretensions that embellished French cuisine and fricasseed them to a fare-thee-well, paving the way for a new era of American food—not to mention blazing a new trail in television—Child redefined herself in middle age, fought for women's rights, and forever altered how we think about what we eat.

Chronicling Julia's struggles, her heartwarming romance with Paul, and, of course, the publication of Mastering the Art of French Cooking and her triumphant TV career, Dearie is a stunning story of a truly remarkable life.
About the Author
---
Bob Spitz is the award-winning author of The Beatles, a New York Times best seller, Reagan, as well as seven other nonfiction books and a screenplay. He has represented Bruce Springsteen and Elton John in several capacities. His articles appear regularly in magazines and newspapers, including The New York Times Magazine; The Washington Post; Rolling Stone; and O, The Oprah Magazine, among others. He can be reached at dearie@bobspitz.com.
Praise For…
---
BEST BOOK OF THE YEAR: Time, Washington Post, NPR

"By far the most substantial new book on Child. . . . A lively, affectionately detailed portrait."
—The Wall Street Journal

"An unabashed celebration of the mistress of haute cuisine."
—San Francisco Chronicle

"A rollicking biography that captures the vision, pluck and contagious exuberance that were the essence of Julia Child."
—People Magazine

"A much-appreciated, well timed gift to us all. . . . Julia has never been more alive in the hearts and minds of those who grew up with her and ate and drank her dreams."
—The Huffington Post

"Those with a hunger for all things Julia have a substantial new biography by Bob Spitz to sink their teeth into. . . . Author and subject almost become one, as Spitz channels the spirit of Child in his own words."
—The Washington Post

"[Spitz] reveals how [Child] helped redefine domesticity in the media age, transforming the way we cook, eat and think about food. . . . The book makes a strong case for Child as a 'cultural guerrilla' on par with Andy Warhol, Bob Dylan and Helen Gurley Brown."
—Newsday

"[An] enthusiastic, heroically researched biography. . . . Spitz goes beyond mere history and provides a full, human portrait of Julia."
—The Economist

"[A] mammoth, inspiring biography."
—The Washington Times

"A comprehensive and compelling biography . . . that also functions effectively as a history of 20th-century American culture on topics ranging from the evolution of the O.S.S. to the quirks of public television."
—The Christian Science Monitor

"A revelation."
—Lev Grossman, Time Magazine

"The most engaging celebrity biography we've read in years. . . . Spitz manages to convey the vigor, curiosity, confidence and booming voice of a truly remarkable woman as if she is sitting at the kitchen table with you. . . . [He] is a fantastic writer."
—LA Weekly 

"This thick, fat, almost sinfully good read should definitely be put high up on the gift list for the food lover in your life. Julia would love you for this."
—Toronto Sun

"[Dearie] takes readers beyond the image of this tall, eccentric woman with a funny voice and establishes her as one of the most distinctive cultural individuals of the 20th century."
—The Canadian Press

"Juicy, masterfully written."
—The Star-Ledger

"A detailed, nuanced biography of television's beloved 'French Chef.'"
—Chicago Tribune

"A biography perfectly suited to its subject—as lively, fascinating, and singular as Julia Child herself."
—Daniel Okrent, author of Last Call: The Rise and Fall of Prohibition