Monument 14 (Monument 14 Series #1) (Hardcover)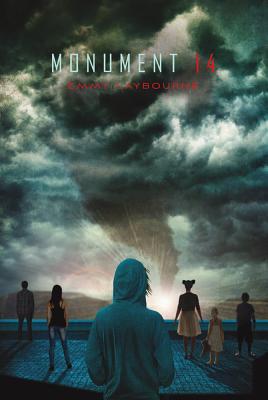 Other Books in Series
This is book number 1 in the Monument 14 Series series.
Description
---
Fourteen kids. One superstore. A million things that go wrong.

"Frighteningly real." —The New York Times Book Review
In Emmy Laybourne's action-packed debut novel, six high school kids (some popular, some not), two eighth graders (one a tech genius), and six little kids trapped together in a chain superstore build a refuge for themselves inside.
While outside, a series of escalating disasters, beginning with a monster hailstorm and ending with a chemical weapons spill, seems to be tearing the world—as they know it—apart.

Your mother hollers that you're going to miss the bus. She can see it coming down the street. You don't stop and hug her and tell her you love her. You don't thank her for being a good, kind, patient mother. Of course not—you launch yourself down the stairs and make a run for the corner.

Only, if it's the last time you'll ever see your mother, you sort of start to wish you'd stopped and did those things. Maybe even missed the bus.

But the bus was barreling down our street, so I ran.
Praise for Monument 14:

"A combination survival and apocalyptic story." —VOYA
"A real thriller." —Booklist
"Laybourne's debut ably turns what could have been yet another postapocalyptic YA novel into a tense, claustrophobic, and fast-paced thriller." —Publishers Weekly, starred review
"Intriguing beyond the survival elements." —Horn Book
"Readers will eagerly await the second volume. " —Kirkus Reviews
"Concise, clear, and riveting. A cliff-hanger ending leaves readers devastated but breathlessly awaiting the sequel. A stellar addition to any collection." —School Library Journal
"Laybourne's strong characterizations of the resourceful, optimistic children who make up this improvised family intensify the horror of the situation and make the almost cartoonish series of catastrophes frighteningly real." —The New York Times Book Review

By Emmy Laybourne:

The Monument 14 Trilogy
Monument 14 (Book 1)
Monument 14: Sky on Fire (Book 2)
Monument 14: Savage Drift (Book 3)
Sweet
The Berserker series
Berserker (Book 1)
Ransacker (Book 2)
About the Author
---
Emmy Laybourne is a screenwriter, lyricist, and actress. She has acted in movies, television, and improv groups including Chicago City Limits. She lives in Chestnut Ridge, New York, with her husband and their two children. She is the author of the Monument 14 trilogy.
Praise For…
---
Praise for Monument 14:

"A combination survival and apocalyptic story." —VOYA
"A real thriller." —Booklist
"Laybourne's debut ably turns what could have been yet another postapocalyptic YA novel into a tense, claustrophobic, and fast-paced thriller." —Publishers Weekly, starred review
"Intriguing beyond the survival elements." —Horn Book
"Readers will eagerly await the second volume. " —Kirkus Reviews
"Concise, clear, and riveting. A cliff-hanger ending leaves readers devastated but breathlessly awaiting the sequel. A stellar addition to any collection." —School Library Journal
"Laybourne's strong characterizations of the resourceful, optimistic children who make up this improvised family intensify the horror of the situation and make the almost cartoonish series of catastrophes frighteningly real." —The New York Times Book Review