Two Twisted Crowns (The Shepherd King #2) (Paperback)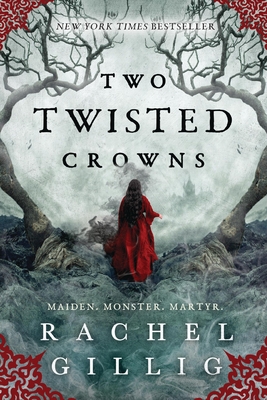 Other Books in Series
This is book number 2 in the The Shepherd King series.
Staff Reviews
---
Gillig's writing is as transportive as ever, conjuring the mist-riddled world of Blunder, velvet-soft and forest-dark, to envelop you fully. The story thrums with power as potent as any Card of Providence, rooted in myth and legend, blossoming brilliantly. 
Elspeth has been overtaken by the Nightmare and all must face their fears if there is to be any hope of a brighter future for as darkness blunts and warps trees starved of light, so has fear stunted and twisted the people of Blunder. Only by working together and refusing to let the pain of their trials break them can Elspeth's companions succeed in the thrilling conclusion to The Shepherd King duology. 
— Jordan
Description
---
In the dark, spellbinding sequel to One Dark Window, Elspeth must confront the weight of her actions as she and Ravyn embark on a perilous quest to save the kingdom—perfect for readers of Hannah Whitten's For the Wolf and Alexis Henderson's The Year of the Witching.

Gripped by a tyrant king and in the thrall of dark magic, the kingdom is in peril. Elspeth and Ravyn have gathered most of the twelve Providence Cards, but the last—and most important—one remains to be found: the Twin Alders. If they're going to find the card before Solstice and set free the kingdom, they will need to journey through the dangerous mist-cloaked forest. The only one who can lead them through is the monster that shares Elspeth's head: the Nightmare.

And he's not eager to share any longer.

Praise for One Dark Window:

"Enthralling from beginning to shocking end." —Hannah Whitten, New York Times bestselling author of For the Wolf

"Pulse pounding, darkly whimsical, and aglow with treacherous magic." —Allison Saft, New York Times bestselling author of A Far Wilder Magic

The Shepherd King 
One Dark Window 
Two Twisted Crowns
About the Author
---
Rachel Gillig was born and raised on the California coast. She is a writer and a teacher, with a B.A. in Literary Theory and Criticism from UC Davis. If she is not ensconced in blankets dreaming up her next novel, Rachel is in her garden or walking with her husband, son, and their poodle, Wally.
Praise For…
---
"In this engaging duology, Gillig has created a distinctive form of magic, explored how humanity would abuse it, and offered a chance of redemption. Characters are painfully aware of their flaws as this page turner keeps readers guessing at the outcome."—Booklist

"Darker and even more atmospheric ... A satisfying end to the Shepherd King duology."—Paste Magazine

Praise for One Dark Window: 

"Thick fog, shifting alliances, and clever magic make the perfect backdrop for a sweeping romance—One Dark Window is enthralling from beginning to shocking end." ―Hannah Whitten, New York Times bestselling author of For the Wolf

"One Dark Window is an evocative tale of romance, mystery and alluring monsters, told in beautifully lush prose. Rachel Gillig has created a story which left me entranced." ―Lyndall Clipstone, author of Lakesedge

"[T]he steamy romance that emerges between Elspeth and Ravyn delights. Fans of Sarah J. Maas, Naomi Novak, and Hannah Whitten will want to check this out." ―Publishers Weekly

"An enchanting tale with sharp claws and teeth—Gillig's prose will pull you in and won't let you sleep. Pulse-pounding, darkly whimsical, and aglow with treacherous magic, One Dark Window is everything I love in fantasy and more." ―Allison Saft, author of A Far Wilder Magic

"A beautifully dark fairy tale of blood, rage and bitter choice, that whisked me away to mist-wreathed woods ripe with romance and menace." ―Davinia Evans, author of Notorious Sorcerer

"A finely detailed magical system enriches Gillig's debut; fantasy readers will enjoy." ―Library Journal

"Readers will be enthralled with Elspeth's—and Nightmare's—riveting adventure." ―Booklist