Theodore Gray's Completely Mad Science: Experiments You Can Do at Home but Probably Shouldn't: The Complete and Updated Edition (Hardcover)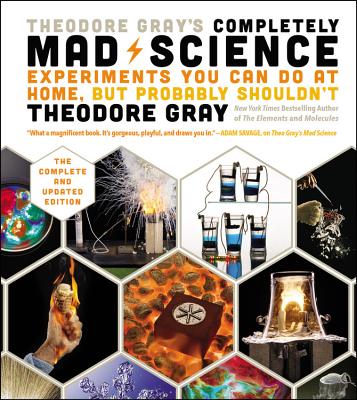 $28.00

Usually Ships in 1-5 Days
Description
---
The ultimate Theodore Gray collection, Theodore Gray's Completely Mad Science collects every one of Gray's dramatic, visually spectacular, and enlightening scientific experiments into one complete volume.

Bestselling author Theodore Gray has spent more than a decade dreaming up, executing, photographing, and writing about extreme scientific experiments, which he then published between 2009 and 2014 in his monthly Popular Science column "Gray Matter." Previously published in book form by Black Dog in two separate volumes (Mad Science and Mad Science 2), these experiments, plus an additional 5, are available now in one complete book.Completely Mad Science is 432 pages of dazzling chemical demonstrations, illustrated in spectacular full-color photographs. Experiments include: Casting a model fish out of mercury (demonstrating how this element behaves very differently depending upon temperature); the famous Flaming Bacon Lance that can cut through steel (demonstrating the amount of energy contained in fatty foods like bacon); creating nylon thread out of pure liquid by combining molecules of hexamethylenediamine and sebacoyl chloride; making homemade ice cream using a fire extinguisher and a pillow case; powering your iPhone using 150 pennies and an apple, and many, many more.

Theodore Gray is the author of The Elements: A Visual Exploration of Every Known Atom in the Universe; Molecules: The Elements and the Architecture of Everything; Theo Gray's Mad Science: Experiments You Can Do at Home, But Probably Shouldn't; and Mad Science 2: Experiments You Can Do at Home, but Still Probably Shouldn't. He lives in Urbana, Illinois.
About the Author
---
Theodore Gray is the author of The Elements, Molecules, and Reactions, as well as Theodore Gray's Completely Mad Science. He is the creator of the bestselling iPad apps "Elements" and "Molecules," which have both been named "App of the Week" by Apple and was Director of "Disney Animated" (also honored by Apple as "iPad App of the Year"). Gray appeared on stage with Steve Jobs several times in his capacity as a software creator. He also co-founded Wolfram Research, Inc., makers of the widely-used software Mathematica and the Wolfram Alpha website. He lives in Urbana, Illinois.