The Foxglove King (The Nightshade Crown #1) (Hardcover)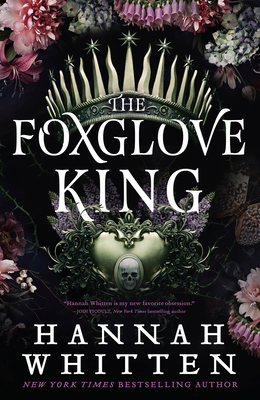 $29.00

Usually Ships in 1-5 Days
Other Books in Series
This is book number 1 in the The Nightshade Crown series.
Staff Reviews
---
A fascinating exploration of fate and how cyclical histories can either be instructions on self-condemnation or a guide to avoid repeating the mistakes of the past. The world-building is lush and immersive with tantalizing hints of things to come in this series. 
Whitten has shown a gift for creating morally complicated and deeply compelling characters with her Wilderwood duology and she manages to accomplish that feat again here. Lore is an enthralling narrator and an interesting take on the "chosen one" trope. She is saved by choosing herself over some amorphous greater good and I cannot wait to see how she deals with the repercussions of that choice. 
Sure to appeal to fans of Black Sun and Legendborn. 
— Jordan
March 2023 Indie Next List
---
"I could not get enough of The Foxglove King! Compulsively readable, Whitten's lush, romantic fantasy is filled with deathly magic and delicious court intrigue. This is the perfect new read for fans of Sarah J. Maas and Holly Black."
— Matilda McNeely, Little Shop of Stories, Decatur, GA
Description
---
In this lush, romantic epic fantasy series from a New York Times bestselling author, a young woman's secret power to raise the dead plunges her into the dangerous and glamorous world of the Sainted King's royal court.
When Lore was thirteen, she escaped a cult in the catacombs beneath the city of Dellaire. And in the ten years since, she's lived by one rule: don't let them find you. Easier said than done, when her death magic ties her to the city.  
Mortem, the magic born from death, is a high-priced and illicit commodity in Dellaire, and Lore's job running poisons keeps her in food, shelter, and relative security. But when a run goes wrong and Lore's power is revealed, she's taken by the Presque Mort, a group of warrior-monks sanctioned to use Mortem working for the Sainted King. Lore fully expects a pyre, but King August has a different plan. Entire villages on the outskirts of the country have been dying overnight, seemingly at random. Lore can either use her magic to find out what's happening and who in the King's court is responsible, or die.  
Lore is thrust into the Sainted King's glittering court, where no one can be believed and even fewer can be trusted. Guarded by Gabriel, a duke-turned-monk, and continually running up against Bastian, August's ne'er-do-well heir, Lore tangles in politics, religion, and forbidden romance as she attempts to navigate a debauched and opulent society.  
But the life she left behind in the catacombs is catching up with her. And even as Lore makes her way through the Sainted court above, they might be drawing closer than she thinks.  
About the Author
---
Hannah Whitten has been writing to amuse herself since she could hold a pen, and sometime in high school, she figured out that what amused her might also amuse others. When she's not writing, she's reading, making music, or attempting to bake. She lives in Tennessee with her husband and children in a house ruled by a temperamental cat.
Praise For…
---
"Hannah Whitten is my favorite obsession, and her new series is all I can think about. I'm obsessed with The Foxglove King―a perfect concoction of intrigue, magic, thwarted love, and writing as delicate and deeply affecting as the petals of a poisonous plant."—Jodi Picoult, New York Times bestselling author

"The Foxglove King is beautifully written, lushly cinematic, unsettlingly mysterious—an unputdownable story of humans and gods. Hannah Whitten has built a world that is as dark as it is fascinating, romantic and disturbing. If you like found families, courtly intrigue, high-stake secrets, hot priests, powerful characters who are on a journey to accepting themselves and learning to wield their powers, and a dash (okay, more than that) of necromancy, The Foxglove King will be the book of your dreams—and your nightmares."—Ali Hazelwood, New York Times bestselling author of The Love Hypothesis

"I am OBSESSED with this book! Hannah Whitten just keeps getting better and better."—Katee Robert, New York Times bestselling author

"The Foxglove King is a decadent and deadly feast of a novel, brimming with romance, intrigue, and twisted magic. Whitten's sumptuous prose and layered, captivating characters sucked me in immediately and kept me riveted until the last page. I have no doubt that readers will devour this book with the same enthusiasm I did." —C. L. Herman, New York Times and USA Today bestselling author of All of Us Villains

"The Foxglove King is a delicious fantasy. Sinister, deadly, and so seductive you won't be able to tear yourself away from this dark gem of a book." —Stephanie Garber, New York Times bestselling author of Once Upon A Broken Heart

"Darkly sumptuous and beautifully dangerous, The Foxglove King wraps you up in a velvet gown and then holds a knife to your throat."—Ava Reid, bestselling author of The Wolf and the Woodsman

"Dripping with dark opulence and sizzling intrigue, The Foxglove King proves Hannah Whitten is a literary force to be reckoned with. Never before have I been so completely captivated." —Erin A. Craig, New York Times bestselling author of House of Salt and Sorrows

"Set in a glittering world of twisted magic and fallen gods, The Foxglove King boasts an intoxicating combination of mystery, magic and romance, twined with impeccable tension and characters I instantly became obsessed with. I could not put it down."—H. M. Long, author of Hall of Smoke

"Stunning...The fascinating magic system and ever-present danger keep the pages flying. Readers won't want to miss this."—Publishers Weekly

"A perfect blend of shadowy gods, forbidden romance, and political court drama."—Kirkus

"Full of courtly intrigue, smart characters and will-they-won't-they romance, The Foxglove King is a heady concoction that will satiate anyone looking for an absorbing new fantasy world."—BookPage

"Romantic tension, an interesting magic system, and detailed worldbuilding create a fast-paced novel in a new world... Whitten's new novel showcases her witty dialogue and captivating prose. Romantic fantasy fans will enjoy this and await the next in the series."—Library Journal

"By the time you reach The Foxglove King's thrilling final pages, you'll be desperate to see where the story goes next—and a likely full convert to the Hannah Whitten Fan Club. This is, without doubt, destined to be named one of the best fantasies of the year."—Paste Magazine