These Hollow Vows (Hardcover)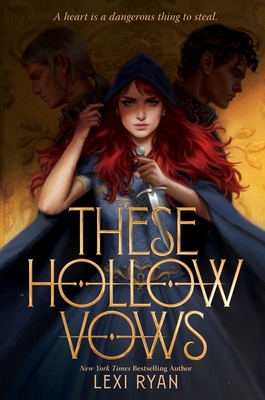 $17.99

Usually Ships in 1-5 Days
Description
---
A New York Times Bestseller! 
Cruel Prince meets A Court of Thorns and Roses in this sexy, action-packed fantasy about a girl who is caught between two treacherous faerie courts and their dangerously seductive princes.
Brie hates the Fae and refuses to have anything to do with them, even if that means starving on the street. But when her sister is sold to the sadistic king of the Unseelie court to pay a debt, she'll do whatever it takes to get her back—including making a deal with the king himself to steal three magical relics from the Seelie court.
Gaining unfettered access to the Seelie court is easier said than done. Brie's only choice is to pose as a potential bride for Prince Ronan, and she soon finds herself falling for him. Unwilling to let her heart distract her, she accepts help from a band of Unseelie misfits with their own secret agenda. As Brie spends time with their mysterious leader, Finn, she struggles to resist his seductive charm.
Caught between two dangerous courts, Brie must decide who to trust with her loyalty. And with her heart.
About the Author
---
Lexi Ryan is the #1 New York Times bestselling author of contemporary romance and YA fantasy. Her novels have sold over a million copies and been translated into over a dozen languages. She is also the recipient of the Romance Writers of America® RITA® Award for her novel Falling Hard. A full-time writer, Lexi is happiest when at home in Indiana with her husband and two children, where you can find her reading copiously, hanging out with her family, and thanking her lucky stars.
Praise For…
---
"Sexy, surprising, and full of secrets. These Hollow Vows is a lot like the world of Faerie – seductive, enthralling, and dangerous. With two very different love interests, lots of heated moments, and a spectacular ending, this is the fantasy romance I have been craving"—Stephanie Garber, #1 New York Times bestselling author of the Caraval series   "A sexy new take on fae fantasy, THESE HOLLOW VOWS swept me away from the very first page and left me breathless and impatient for the next installment. Brie is a smart, capable heroine readers will love to root for in a dazzling new world filled with magic and romance. Prepare to fall for your newest book boyfriend."—Lisa Maxwell, New York Times bestselling author of The Last Magician   "Lexi Ryan wrote a beautifully broken and epic fantasy that completely blew me way. Complete with twisted fae, love triangles that make my heart pound, and exceptional world building, These Hollow Vows is a must read for fans of Sarah J Maas and Jennifer L Armentrout. I highly recommend and am in dire need for the next book!"—Carrie Ann Ryan, NYT Bestselling Author of the Elements of Five Series   "An enchanting story of magic, adventure, and the lengths we will go to for the ones we love. Lexi Ryan takes readers on a rollercoaster ride we won't forget and leaves us begging for more of this story and world."—Catherine Cowles, author of the Wrecked series "Engaging writing and worldbuilding.... a compelling hook."—School Library Journal —