Our America: A Photographic History (Hardcover)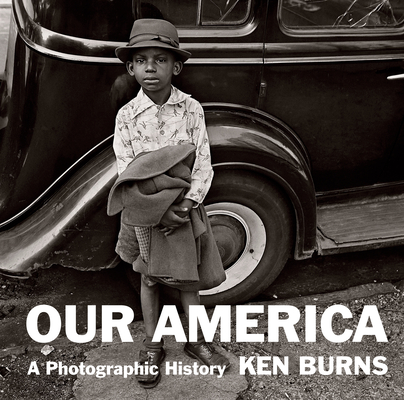 $80.00

Usually Ships in 1-5 Days
Description
---
From one of our most treasured filmmakers, a pictorial history of America—a stunning and moving collection of some of Ken Burns's favorite photographs, with an introduction by Burns, and an essay by longtime MoMA photography curator Sarah Hermanson Meister

Burns has been making documentaries about American history for more than four decades, using images to vividly re-create our struggles and successes as a nation and a people. As much as anyone alive today, he understands the soul of our country.

In Our America, Burns has assembled the images that, for him, best embody nearly two hundred years of the American experiment, taken by some of our most reknowned photographers and by others who worked in obscurity. We see America's vast natural beauty as well as its dynamic cities and communities. There are striking images of war and civil conflict, and of communities drawing together across lines of race and class. Our greatest leaders appear alongside regular folks living their everyday lives. The photos talk to one another across boundaries and decades and, taken together, they capture the impossibly rich and diverse perspectives and places that comprise the American experience.
About the Author
---
KEN BURNS, the producer and director of numerous film series, including The Vietnam War, The Roosevelts: An Intimate History, and The War, founded his own documentary film company, Florentine Films, in 1976. His landmark film The Civil War was the highest-rated series in the history of American public television, and his work has won numerous prizes, including the Emmy and Peabody Awards, and two Academy Award nominations. He lives in Walpole, New Hampshire.

Praise For…
---
"Chronicling America from 1839 to 2019, these photographs are both well-known and obscure, faces of celebrities and faces of laypeople, stunning images of landscapes and national parks alongside deserted towns and scenes of destruction. Just as arresting and poignant as his films can be, Burns has gathered a striking collection that depicts America in all its glory and grimness."
—Lit Hub

"A stirring collection of photographs, arranged chronologically from the first daguerreotype in 1839 to a 2019 image of the late John Lewis, arms crossed, prayer-like, across his chest."
—Oprah Daily

"Those featured here never did [quit]. Sometimes they are famous people – like Jackie Kennedy, pictured here at her husband's burial at Arlington, her widow's veil not quite hiding her weary eyes. Sometimes their details are lost to us — like Gordon, the escaped slave who later joined and fought with the Union Army before disappearing into history. They all struggled. But they all persisted. They were all Americans. And this book gives them their moment, remembering them forever." 
—Jacqueline Cutler, New York Daily News

"Our America...isn't just snapshots or black-and-white images of beautiful parks, baseball, and celebrities. There are also photos of segregation, violence and adversity — in other words, it attempts neither to hide nor to shield viewers from the complexities of history."
—Jane Henderson, St. Louis Post-Dispatch

"Documentary filmmaker Ken Burns has edited hundreds of photographs depicting the history of our nation—its highs and lows, the beauty of its national parks and bustling cities, and its struggles and celebrations. It is a striking photo portrait of almost 200 years of the American experiment."
—Washingtonian

"Nobody knows how to use photographs to tell a story like documentarian Ken Burns....Instead of glorifying the country, Our America takes a warts-and-all approach to the telling. There are plenty of images that capture the majesty of the land (Devil's Tower in Wyoming, the Great Smoky Mountains, the Sierra Madres) and the dignity of its people (Ernest Hemingway, Lou Gehrig, Rosa Parks), but there are just as many that reflect the ugly side of American life (slavery, war, poverty)....Striking." 
—Suzanne Van Atten, The Atlanta Journal-Constitution

"Stunning...Steeped in the 'myriad tensions' of American history, these chronologically ordered photographs show majestic vistas of American natural beauty alongside closer images of individual Americans: men at work and at war; women quilting and protesting; people living and dying. Each image on its own is an invitation to consider what story an image can tell...The photos in Our America are a tribute and a revelation, offering a sweeping view of a nation born of both building and destruction."
—Kerry McHugh, Shelf Awareness

"Burns's distinctive photographic history, replete with illuminating backstories for every image, encompasses America's multitudinous beauty and dynamism as well as its tragic failures to realize its ideals."
—Donna Seaman, Booklist

"In the filmmaker and author's latest photo book, the triumphs and tribulations of the American spirit take the stage...[A] remarkable collection of images....A moving tribute to America's rich and complex history."
—Kirkus Reviews, Starred

"A powerful and moving collection, ranging from the obscure (a 1903 photo of the first Japanese American baseball team in the mainland U.S.) to the famous (Robert Frank's 1955 image of passengers on a segregated trolley in New Orleans)....Visually arresting and expertly curated, this is a must-have for fans of Burns's documentaries."
—Publishers Weekly, Starred