Packing for Mars: The Curious Science of Life in the Void (Hardcover)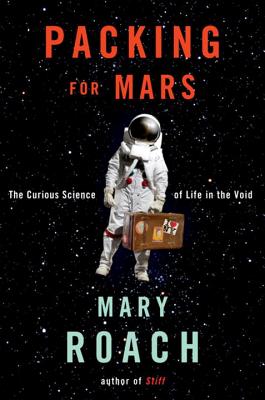 $28.00

Usually Ships in 1-5 Days
Description
---
The best-selling author of Stiff and Bonk explores the irresistibly strange universe of space travel and life without gravity.
Space is a world devoid of the things we need to live and thrive: air, gravity, hot showers, fresh produce, privacy, beer. Space exploration is in some ways an exploration of what it means to be human. How much can a person give up? How much weirdness can they take? What happens to you when you can't walk for a year? have sex? smell flowers? What happens if you vomit in your helmet during a space walk? Is it possible for the human body to survive a bailout at 17,000 miles per hour? To answer these questions, space agencies set up all manner of quizzical and startlingly bizarre space simulations. As Mary Roach discovers, it's possible to preview space without ever leaving Earth. From the space shuttle training toilet to a crash test of NASA's new space capsule (cadaver filling in for astronaut), Roach takes us on a surreally entertaining trip into the science of life in space and space on Earth.
About the Author
---
Mary Roach is the author of five best-selling works of nonfiction, including Grunt, Stiff, and, most recently, Fuzz. Her writing has appeared in National Geographic and the New York Times Magazine, among other publications. She lives in Oakland, California.
Praise For…
---
[Her] style is at its most substantial—and most hilarious—in the zero-gravity realm that Packing for Mars explores.… As startling as it is funny.

— Janet Maslin - The New York Times

This is the kind of smart, smirky stuff that Roach does so well.
— Geoff Nicholson - San Francisco Chronicle

Cool answers to questions about the void you didn't even know you had.
— People

An utterly fascinating account, made all the more entertaining by the author's ever-amused tone.
— BookPage

An impish and adventurous writer with a gleefully inquisitive mind and stand-up comic's timing.
— Booklist

The author's writing comes across as reportorial, but with a clear sense of humor; even the footnotes are used to both informational and comedic effect.
— Time Out New York

Hilarious.
— The New York Times Book Review

A delightful, illuminating grab bag of space-flight curiosities.
— Kirkus Reviews
Coverage from NPR