All The Wild That Remains: Edward Abbey, Wallace Stegner, and the American West (Hardcover)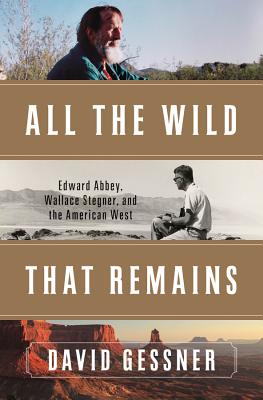 Description
---
An homage to the West and to two great writers who set the standard for all who celebrate and defend it.
Archetypal wild man Edward Abbey and proper, dedicated Wallace Stegner left their footprints all over the western landscape. Now, award-winning nature writer David Gessner follows the ghosts of these two remarkable writer-environmentalists from Stegner's birthplace in Saskatchewan to the site of Abbey's pilgrimages to Arches National Park in Utah, braiding their stories and asking how they speak to the lives of all those who care about the West.
These two great westerners had very different ideas about what it meant to love the land and try to care for it, and they did so in distinctly different styles. Boozy, lustful, and irascible, Abbey was best known as the author of the novel The Monkey Wrench Gang (and also of the classic nature memoir Desert Solitaire), famous for spawning the idea of guerrilla actions—known to admirers as "monkeywrenching" and to law enforcement as domestic terrorism—to disrupt commercial exploitation of western lands. By contrast, Stegner, a buttoned-down, disciplined, faithful family man and devoted professor of creative writing, dedicated himself to working through the system to protect western sites such as Dinosaur National Monument in Colorado.
In a region beset by droughts and fires, by fracking and drilling, and by an ever-growing population that seems to be in the process of loving the West to death, Gessner asks: how might these two farseeing environmental thinkers have responded to the crisis?
Gessner takes us on an inspiring, entertaining journey as he renews his own commitment to cultivating a meaningful relationship with the wild, confronting American overconsumption, and fighting environmental injustice—all while reawakening the thrill of the words of his two great heroes.
About the Author
---
David Gessner is the award-winning author of Return of the Osprey, My Green Manifesto, The Tarball Chronicles, and other books. He currently lives and teaches in Wilmington, North Carolina.
Praise For…
---
An excellent primer to readers new to [Edward] Abbey and [Wallace] Stegner, and an insightful explanation of their continuing relevance…. Gessner's reporting, whether profiling Stegner and Abbey's acolyte Wendell Berry or observing the consequences of Vernal, Utah's fracking boom, is vivid and personable. In his able hands, Abbey and Stegner's legacy is refreshed for a new generation of readers.
— Andrew Martin - Washington Post

Never reduces either man to simplistic categories, but sees in both personalities possible life models, men who loved nature and felt keenly the limits on human liberty.
— David Mason - Wall Street Journal

This timely mash-up of environmental journalism, biography, travel writing, and literary criticism has Gessner hitting the road in search of the real story behind 'two of the most effective environmental fighters of the 20th century…What emerges is a joyful adventure in geography and in reading—and in coming to terms with how the domestic and the wild can co-exist over time.
— Joy Horowitz - Los Angeles Review of Books

Two extraordinary men and one remarkable book. To understand how we understand the natural world, you need to read this book.
— Bill McKibben, author of Eaarth

An excellent study of two difficult men.
— Larry McMurtry, author of Lonesome Dove and The Last Kind Words Saloon

A travel book, yes, a literary memoir, yes, and a profound meditation on our myths and shadows. Anyone who loves the American West will be enraptured by this book. It is a wonderful piece of work.
— Luis Alberto Urrea, author of The Hummingbird's Daughter and Queen of America

This book rubs Abbey and Stegner's history in the dust and sand so beloved to them, posing these two late icons among voices, landscapes, and arguments that endure in western wilderness, deftly creating a larger geographic chronicle.
— Craig Childs, author of House of Rain and Apocalyptic Planet

Praise David Gessner for reawakening us, in these climactically challenged times, to the wisdom of our two most venerated literary grandfathers of the American West, to remind us of our wilder longings, to incite in us a fury, that we might act—even now—to defend all the wild that remains.
— Pam Houston, author of Cowboys Are My Weakness and Contents May Have Shifted

To understand the truth of the Desert West, read Stegner. To understand one writer's emotional response to that desert and to our thoughtless destruction of wilderness, read Abbey. To understand the two writers as men of their times—and ours—read Gessner: for his honesty, compassion, humility, scholarship, and sensibility.
— Stephen Trimble, author of Bargaining for Eden

A spirited, ecologically minded travelogue…. [Gessner] writers with a vividness that brings the serious ecological issues and the beauty of the land…to sharp relief…urgent and engrossing.
— Publishers Weekly, Starred review