Sounds Like Titanic: A Memoir (Hardcover)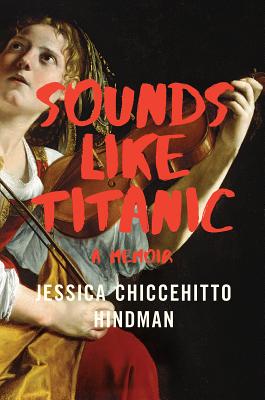 Description
---
A young woman leaves Appalachia for life as a classical musician—or so she thinks.
When aspiring violinist Jessica Chiccehitto Hindman lands a job with a professional ensemble in New York City, she imagines she has achieved her lifelong dream. But the ensemble proves to be a sham. When the group "performs," the microphones are never on. Instead, the music blares from a CD. The mastermind behind this scheme is a peculiar and mysterious figure known as The Composer, who is gaslighting his audiences with music that sounds suspiciously like the Titanic movie soundtrack. On tour with his chaotic ensemble, Hindman spirals into crises of identity and disillusionment as she "plays" for audiences genuinely moved by the performance, unable to differentiate real from fake.
Sounds Like Titanic is a surreal, often hilarious coming-of-age story. Hindman writes with precise, candid prose and sharp insight into ambition and gender, especially when it comes to the difficulties young women face in a world that views them as silly, shallow, and stupid. As the story swells to a crescendo, it gives voice to the anxieties and illusions of a generation of women, and reveals the failed promises of a nation that takes comfort in false realities.
About the Author
---
Jessica Chiccehitto Hindman has "performed" on PBS, QVC, and at concert halls worldwide. Her writing has appeared in the New York Times Magazine, McSweeney's, Brevity, and Hippocampus. She holds a BA in Middle Eastern studies and an MFA in creative nonfiction writing from Columbia University, and a PhD in English from the University of North Texas. She teaches creative writing at Northern Kentucky University and lives in Newport, Kentucky.
Praise For…
---
Sounds Like Titanic would be unbelievable as a novel, but as a memoir it is deliciously bizarre and utterly American. It's a Coen Brothers movie come to life—Ruby Tuesday, QVC, and one woman working for years as a fake violinist for classical music's version of Thomas Kinkade. I couldn't put it down.

— Caitlin Doughty, bestselling author of From Here to Eternity and Smoke Gets in Your Eyes

Sardonic, moving.
— New Yorker

[An] outrageously funny, shrewdly meta memoir.
— O, The Oprah Magazine

[A] most original memoir, one in which the narrator's intelligence deepens by the page…. I salute Jessica Hindman for having shaped so well a remarkable piece of experience.
— Vivian Gornick, author of The Odd Woman and the City: A Memoir

Sounds Like Titanic … is a memoir with bite. …[Hindman's] fascinating personal story, with its unexpected twists, puts the memorable into this memoir.

— NPR

Brave and captivating. 
— Tucker Coombe - Los Angeles Review of Books

[A] rich, powerful book.
— Constance Grady - Vox

It's difficult to write a funny, angry book. It's even harder to write a merciless, empathetic book. But here comes Jessica Hindman, doing the impossible with a funny, angry, merciless, empathetic book that's not only a hugely entertaining memoir, but an insightful meditation on a time in our nation's recent history whose strange and ominous influence grows more apparent by the day.
— Tom Bissell, author of Apostle and coauthor of The Disaster Artist

Hindman is an emissary for a generation, repurposing its sarcasm and irony in a nuanced, humorous, and intelligent look at what it means to construct and consume fake realities in post-9/11 America.
— Angela Palm, winner of the Graywolf Press Nonfiction Prize for Riverine

It's rare that a memoir—or any book—manages to be gripping, intelligent, witty, informative, and relatable all at the same time. Hindman mourns her lack of success as a professional musician, but we can all be endlessly happy she became a writer instead.
— Katherine Heiny, author of Standard Deviation

An evocative portrait of America's literal and figurative landscapes, an incisive look at class and gender, and an examination of what authenticity means.
— Justin St. Germain, author of Son of a Gun

Although her violin days are over, Hindman can be assured that she's accomplished something incredible: she has written a memoir about identity and finding a sense of self that is funny, personal, empathetic, and amazingly true.
— Lily McLemore - BookPage

[P]rovocative. … A tricky, unnerving, consistently fascinating memoir.
— Kirkus Reviews (starred review)