Big Doctoring in America: Profiles in Primary Care (California/Milbank Books on Health and the Public #5) (Paperback)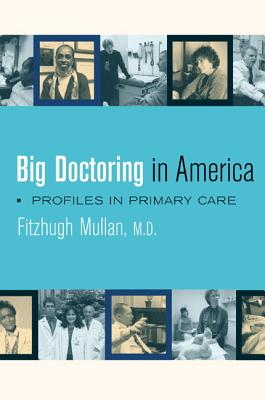 $38.34

Usually Ships in 1-5 Days
Description
---
The general practitioner was once America's doctor. The GP delivered babies, removed gallbladders, and sat by the bedsides of the dying. But as the twentieth century progressed, the pattern of medical care in the United States changed dramatically. By the 1960s, the GP was almost extinct. The later part of the twentieth century, however, saw a rebirth of the idea of the GP in the form of primary care practitioners. In this engrossing collection of oral histories and provocative essays about the past and future of generalism in health care, Fitzhugh Mullan—a pediatrician, writer, and historian—argues that primary care is a fascinating, important, and still endangered calling. In conveying the personal voices of primary care practitioners, Mullan sheds light on the political and economic contradictions that confront American medicine.

Mullan interviewed dozens of primary care practitioners—family physicians, internists, pediatricians, nurse practitioners, and physician assistants—asking them about their lives and their work. He explains how, during the last forty years, the primary care movement has emerged built on the principles of "big doctoring"--coordinated, comprehensive care over time. This book is essential reading for understanding core issues of the current health care dilemma. As our country struggles with managed care, market reforms, and cost containment strategies in medicine, Big Doctoring in America provides an engrossing and illuminating look at those in the trenches of the profession.
About the Author
---
Fitzhugh Mullan, M.D. is Professor of Pediatrics and Public Health at George Washington University and a contributing editor of the journal Health Affairs. He is the author of Plagues and Politics: The Story of the United States Public Health Service (1989), Vital Signs: A Young Physician's Struggle with Cancer (1983), and White Coat, Clenched Fist: The Political Education of an American Physician (1976).