Greenlights (Hardcover)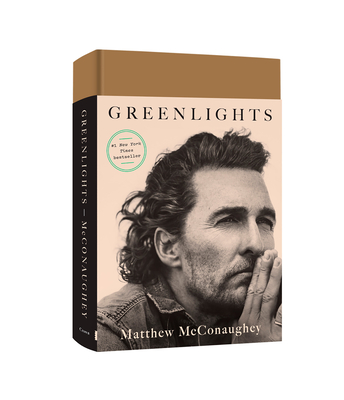 $30.00

Usually Ships in 1-5 Days
Description
---
#1 NEW YORK TIMES BESTSELLER • Discover the life-changing memoir that has inspired millions of readers through the Academy Award®–winning actor's unflinching honesty, unconventional wisdom, and lessons learned the hard way about living with greater satisfaction.

"The No. 1 celebrity memoir of the past 10 years."—USA Today

"McConaughey's book invites us to grapple with the lessons of his life as he did—and to see that the point was never to win, but to understand."—Mark Manson, author of The Subtle Art of Not Giving a F*ck

I've been in this life for fifty years, been trying to work out its riddle for forty-two, and been keeping diaries of clues to that riddle for the last thirty-five. Notes about successes and failures, joys and sorrows, things that made me marvel, and things that made me laugh out loud. How to be fair. How to have less stress. How to have fun. How to hurt people less. How to get hurt less. How to be a good man. How to have meaning in life. How to be more me.
 
Recently, I worked up the courage to sit down with those diaries. I found stories I experienced, lessons I learned and forgot, poems, prayers, prescriptions, beliefs about what matters, some great photographs, and a whole bunch of bumper stickers. I found a reliable theme, an approach to living that gave me more satisfaction, at the time, and still: If you know how, and when, to deal with life's challenges—how to get relative with the inevitable—you can enjoy a state of success I call "catching greenlights."
 
So I took a one-way ticket to the desert and wrote this book: an album, a record, a story of my life so far. This is fifty years of my sights and seens, felts and figured-outs, cools and shamefuls. Graces, truths, and beauties of brutality. Getting away withs, getting caughts, and getting wets while trying to dance between the raindrops.
 
Hopefully, it's medicine that tastes good, a couple of aspirin instead of the infirmary, a spaceship to Mars without needing your pilot's license, going to church without having to be born again, and laughing through the tears.
 
It's a love letter. To life.
 
It's also a guide to catching more greenlights—and to realizing that the yellows and reds eventually turn green too.
 
Good luck.

The short dust jacket included with this hardcover edition is an intentional design choice.
About the Author
---
Academy Award–winning actor Matthew McConaughey is a married man, a father of three children, and a loyal son and brother. He considers himself a storyteller by occupation, believes it's okay to have a beer on the way to the temple, feels better with a day's sweat on him, and is an aspiring orchestral conductor.
 
In 2009, Matthew and his wife, Camila, founded the just keep livin Foundation, which helps at-risk high school students make healthier mind, body, and spirit choices. In 2019, McConaughey became a professor of practice at the University of Texas at Austin, as well as Minister of Culture/M.O.C. for the University of Texas and the City of Austin. McConaughey is also brand ambassador for Lincoln Motor Company, an owner of the Major League Soccer club Austin FC, and co-creator of his favorite bourbon on the planet, Wild Turkey Longbranch.
Praise For…
---
"Matthew McConaughey's book is exactly what we needed after the frenzy of Campaign 2020. . . . [A] much-needed breather . . . [and] a recuperative journey . . . it is both calming and laugh, laugh, laugh-out-loud funny."—Hugh Hewitt, The Washington Post

"A delightful surprise, full of stories that [haven't] been shared on late night talk shows or made headlines over the years. It's a wild ride to be sure, but if you enjoy McConaughey and all of the eccentricities and contradictions that come with him, it's one you won't want to miss."—Texas Monthly

"A brilliant memoir . . . [Greenlights] is unmistakeably 'a book that only Matthew McConaughey could have written.' This is a good thing."—The Times Magazine (UK)

"McConaughey's own story is arguably more interesting than any character he has embodied on the silver screen over the decades."—USA Today

"Delightfully voicey."—GQ

"McConaughey's approach to memoir is the opposite of careful, instead opting for pure candor. . . . Taken together, the stories in Greenlights paint the picture of someone who could not care less of what the world thinks of him, which has—not coincidentally—resulted in lots of people in the world liking the actor and his work."—John Warner, Chicago Tribune

"At its best moments, Greenlights . . . delivers memorable life lessons."—Pico Iyer, Air Mail

"Candid . . . Greenlights is more than an autobiography, far more than a comedy or a series of adventures. The author gives us a lively look at his life in and out of his movies and provides readers with an honest look at who he is."—The Florida Times-Union

"McConaughey is a talented actor and a fine writer, but a total genius at living. He attacks life with an exhilarating ferocity. This is a wildly unexpected and delightful book you can't just read, you have to experience."—Lawrence Wright, author of The End of October

"It shouldn't surprise you that this book is good, but it will surprise you just how good it is.
 Wise and entertaining, this is an inspiring memoir and how-to from one of the great outlaw philosophers and artists of our time."—Ryan Holiday, author of The Daily Stoic

"A Renaissance man on the big screen, McConaughey shows he is the same on the page. Mystical and spiritual but mostly just wonderful, Greenlights is an inspired memoir that celebrates the idea that it's the journey rather than the destination that will fulfill us."—Michael Connelly, author of Fair Warning

"Written with great intensity and rare candor, Greenlights is a whirlwind of wisdom that's as singular and fervent as its author. Read the book, experience the behind-the-scenes adventures, then pursue your own greenlights full throttle."—Shaka Smart, head coach, men's basketball, The University of Texas at Austin

"I cannot recommend it highly enough."—John Mackey, co-founder and CEO of Whole Foods Market, co-author of Conscious Leadership