Spells for Forgetting: A Novel (Hardcover)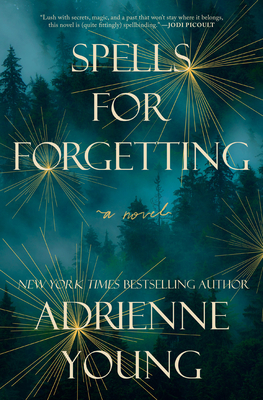 $28.00

Usually Ships in 1-5 Days
Staff Reviews
---
This enchanting, evocative novel is enough to make anyone believe in magic. Young casts her spells with prose and paper but they are just as binding as candles and herbs and the results are just as transportive and transformational. 
Part mystery, part family saga, SPELLS FOR FORGETTING draws you in from the start; an island brimming with history and lore but nothing is as it seems and everyone has secrets. Emery and August are simply the next generation caught in the maelstrom of battles started centuries ago until they take their fates and futures into their own hands. 
They aren't star-crossed lovers playing their scripted parts; they choose themselves, they choose each other, and their choices make them agents of change. As those changes ripple out across the island of Saoirse they shake loose secrets that have long been buried and will change Emery and August's lives forever. 
— Jordan
Description
---
NATIONAL BESTSELLER • "Lush with secrets, magic, and a past that won't stay where it belongs, this novel is (quite fittingly) spellbinding."—JODI PICOULT, author of Wish You Were Here

A deeply atmospheric story about ancestral magic, an unsolved murder, and a second chance at true love

ONE OF THE BEST BOOKS OF THE YEAR: She Reads

Emery Blackwood's life changed forever the night her best friend was found dead and the love of her life, August Salt, was accused of murdering her. Years later, she is doing what her teenage self swore she never would: living a quiet existence on the misty, remote shores of Saoirse Island and running the family's business, Blackwood's Tea Shoppe Herbal Tonics & Tea Leaf Readings. But when the island, rooted in folklore and magic, begins to show signs of strange happenings, Emery knows that something is coming. The morning she wakes to find that every single tree on Saoirse has turned color in a single night, August returns for the first time in fourteen years and unearths the past that the town has tried desperately to forget.

August knows he is not welcome on Saiorse, not after the night everything changed. As a fire raged on at the Salt family orchard, Lily Morgan was found dead in the dark woods, shaking the bedrock of their tight-knit community and branding August a murderer. When he returns to bury his mother's ashes, he must confront the people who turned their backs on him and face the one wound from his past that has never healed—Emery. But the town has more than one reason to want August gone, and the emergence of deep betrayals and hidden promises spanning generations threaten to reveal the truth behind Lily's mysterious death once and for all.
About the Author
---
Adrienne Young is the New York Times and USA Today bestselling author of the Sky in the Deep duology and the Fable series. Her books have been published in over twenty-five countries. When she's not writing, you can find her on her yoga mat, on a walk in the woods, or planning her next travel adventure. She lives and writes in the Blue Ridge Mountains of North Carolina.
Praise For…
---
"With magic, murder, and prose that reads like music, Spells for Forgetting weaves together an immersive tale on the Pacific Coast island of Saoirse, where love and pain both stick to the too."―Chandler Baker, New York Times bestselling author of The Husbands

"A thrilling, rich mystery with exquisite twists, Adrienne Young's adult debut will trick you, bewitch you, and leave you begging for more."―Stephanie Garber, author of the Caraval series

"Tense, lyrical, and wholly romantic, Spells for Forgetting is as immersive a story as you could ask for. I could feel the salt on my skin, I could smell the smoke, and every page felt like a tentative step into a mist concealing all of Saoirse's darkest secrets."―Ruth Emmie Lang, Ohioana Book Award finalist

"With quiet magic like wind on a spooky autumn evening, Spells for Forgetting is so atmospheric it will leave you breathless. Adrienne Young's exquisite prose blends slow- burn romance and intense mystery into a beautiful, twisty gem of a novel. You won't want to miss this one."―Sarah Addison Allen, New York Times bestselling author of Garden Spells