Everything Is Temporary: Illustrated Contemplations on How Death Shapes Our Lives (Paperback)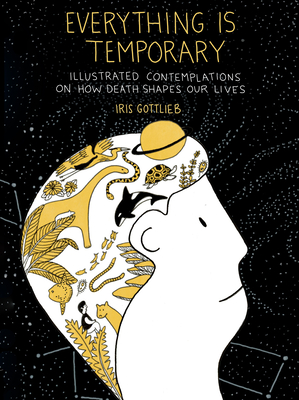 $17.00

Usually Ships in 1-5 Days
Description
---
A beautiful, illustrated reflection on death, mortality, and what it means to be human.

It is an unavoidable fact of life that one day, you will die. Until very recently, death was a subject that many people hid from. But in a post-pandemic world in which a new generation is beginning to care for aging parents, it's time to start talking about dying.

In this at-times-heartbreaking yet heartwarming book, author and illustrator Iris Gottlieb explores death from all angles—from the physical, such as the ways your remains could be handled, to the emotional, including grief and grappling with your own mortality. And by the end, you will start to answer the question, So how do you live with death?

Part explainer, part conversation-starter, and part helping hand to accept the inevitable, Everything Is Temporary will encourage conversations with loved ones and invite introspection to find more internal peace.


About the Author
---
Iris Gottlieb is an illustrator and author who works to make information more accessible through her content. She has illustrated for The New York Times, Smithsonian magazine, NPR, and Good Company, among others. She has worked with large companies such as MTV and Google, and has collaborated with museums around the country. Her previous books include Seeing Science, Seeing Gender, and Natural Attraction.