Death's Acre: Inside the Legendary Forensic Lab the Body Farm Where the Dead Do Tell Tales (Paperback)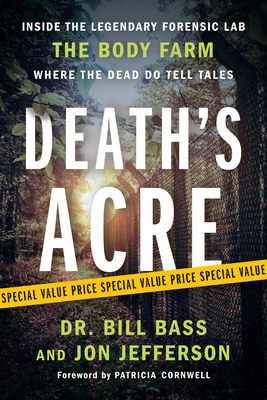 $12.00
Email or call for price.
Description
---
"Fans of the forensics-oriented novels of such mystery writers as Kathy Reichs and Patricia Cornwell...not to mention television series like CSI: Crime Scene Investigation, will make an eager audience for this one."—Booklist

On a patch of land in the Tennessee hills, human corpses decompose in the open air, aided by insects, bacteria, and birds, unhindered by coffins or mausoleums. This is Bill Bass's "Body Farm," where nature takes its course as bodies buried in shallow graves, submerged in water, or locked in car trunks serve the needs of science and the cause of justice.

In Death's Acre, Bass invites readers on an unprecedented journey behind the gates of the Body Farm where he revolutionized forensic anthropology. A master scientist and an engaging storyteller, Bass reveals his most intriguing cases for the first time. He revisits the Lindbergh kidnapping and murder, explores the mystery of a headless corpse whose identity astonished police, divulges how the telltale traces of an insect sent a murderous grandfather to death row—and much more.

INCLUDES PHOTOGRAPHS
About the Author
---
Dr. Bill Bass, a legend in forensic circles, has assisted with hundreds of cases for the FBI and numerous other law-enforcement agencies. He created the world's first laboratory devoted to human decomposition: the University of Tennessee's Anthropology Research Facility. He has written or coauthored more than two hundred scientific publications, many based on murder cases and other mysteries he has helped to prosecute or solve. A gifted teacher, he has been named "National Professor of the Year" by the Council for Advancement and Support of Education.
Jon Jefferson is a veteran journalist, science writer, and documentary filmmaker. His writing has been featured by The New York Times, Newsweek, USA Today, and Popular Science.