Ravenfall (Hardcover)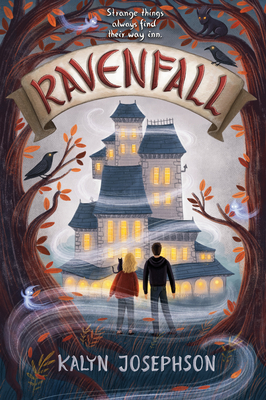 $16.99

Usually Ships in 1-5 Days
Other Books in Series
This is book number 1 in the Ravenfall series.
The magical inn of Ravenfall sits on the edge of the Otherworld and ours. When Colin arrives there after the death of his parents, it's up to Anna and the rest of her gifted family to help him solve the mystery of his family's past. 
This delightfully spooky story comes complete with a highly entertaining and endearing cast of characters that also serve to highlight one of the themes that runs through this book: it's okay to ask for help. Even powerful, magical beings can't do it alone. It takes everybody, friends and family, both to defeat legendary evil and to get through life. 
— Jordan
Description
---
One magical inn, two kids with supernatural powers, and an ancient Celtic creature trying to destroy their world by Halloween night...

Halloweentown meets Supernatural in this spooky middle-grade series from the acclaimed author of the Storm Crow duology!

Thirteen-year-old Annabella Ballinkay has never been normal, even by her psychic family's standards. Every generation uses their abilities to help run the Ravenfall Inn, a sprawling, magical B&B at the crossroads of the human world and the Otherworld. But it's hard to contribute when your only power is foreseeing death.

So when fourteen-year-old Colin Pierce arrives at Ravenfall searching for his missing older brother and the supernatural creature who killed their parents, Anna jumps at the chance to help. But the mysteries tied to Colin go much deeper than either of them expects. . . .

As the two team up to find answers, they unearth Colin's family's secret past and discover that Colin has powers beyond his imagination. And now the supernatural creature, one with eerie origins in Celtic mythology, is coming after him. If Anna and Colin can't stop the creature by Halloween night, the veil to the Otherworld could be ripped open—which would spell destruction for their world as they know it.
About the Author
---
Kalyn Josephson is a fantasy author living in the California Bay Area. She loves books, cats, books with cats, and making up other worlds to live in for a while. She is also the author of the Storm Crow duology.
Praise For…
---
"Twisty and thrilling. Ravenfall is an enthralling adventure that pulls readers in from the first page, with delightful worldbuilding that will make you want to linger for a long time."—Julie Abe, author of the Eva Evergreen series

"Ravenfall is an utterly enchanting read packed with imaginative magic and folklore, a creeping sense that something wicked is coming, and a vibrant, endearing cast of characters you'll root for every step of the way. Settle in with a full mug of hot cider and a cozy blanket: you won't want to put Ravenfall down."—Tracy Badua, author of Freddie vs. the Family Curse

"A wonderfully bewitching tale of magic, grief, and the power of friendship. Josephson weaves a fantastical story you'll never want to leave, full of memorable characters, a heart-pounding mystery, and a sentient inn that will make you wish you could book a room of your own for next Samhain."—Alexandra Overy, author of These Feathered Flames

"As cozy as a warm cup of tea in the middle of a graveyard at midnight on Halloween. Don't you dare sleep on this story—or its truly excellent black cat."—Alyssa Colman, author of The Gilded Girl

"Alternating between Anna and Colin's voices, Josephson (The Storm Crow) presents memorable characters in an engaging and eerie magical mystery."—Publishers Weekly

"Magical traditions, creatures, and objects abound in this intriguing setting, offering possibilities for sequels... Largely spellbinding."—Kirkus Reviews