Uni the Unicorn: The Haunted Pumpkin Patch (Paperback)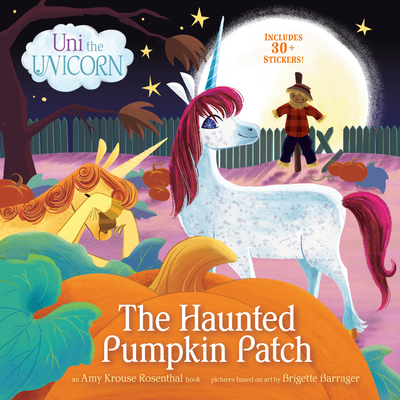 $6.99

Usually Ships in 1-5 Days
Description
---
Uni the Unicorn is ready for Halloween -- and kids will find a special treat of sparkly stickers inside, too! Celebrate the magic of believing with Uni the Unicorn!

This new line of UNI THE UNICORN paperback storybooks begins with a spooky twist! 
 
Uni is planting a pumpkin patch. But, uh oh! Uni's very first pumpkin gets squished! Uni's friend Goldie thinks she saw something spooky in the pumpkin patch... What could it be? Uni isn't scared -- Uni knows just how to be brave and solve the mystery! 
 
UNI 8x8's are storybooks with a strong magical theme and a hopeful message (plus a sticker sheet, too!).  We see Uni experiencing real world feelings that familes want to read about and kids can identify with.
 
Look for Uni the Unicorn: How to Say Thank You! coming soon.
About the Author
---
AMY KROUSE ROSENTHAL was born in 1965 and graduated from Tufts University. A prolific writer, speaker, filmmaker, and radio show host, she also contributed to TED Talks and wrote numerous adult and children's books, including picture books about Uni the Unicorn. She announced on March 3, 2017, that she was terminally ill with cancer. She lived in Chicago with her husband and children. Her essay for the Modern Love column in the New York Times, entitled "You May Want to Marry My Husband," went viral online. She died on March 13, 2017.

BRIGETTE BARRAGER graduated from CalArts with a BFA in character animation in 2007. She likes tea and books and general old lady-ish stuff, and hates when people's toes hang over the edge of their sandals. Visit her at brigetteb.blogspot.com.