The Incendiaries: A Novel (Hardcover)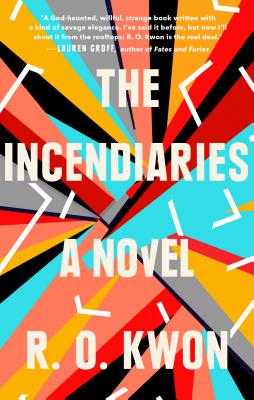 $26.00
Email or call for price.
August 2018 Indie Next List
---
"R.O. Kwon's debut knocked me sideways. The Incendiaries is a serious reckoning with the problem of fanaticism and the violence of blind devotion. The story of Will and Phoebe is told with an extraordinarily smart and soulful style. I was amazed at how perfectly Kwon's spare language fit her novel's expansive scope. A stunning portrait of what faith can do and undo, The Incendiaries will delight and disturb. But, most of all, it will impress."
— John Francisconi, Bank Square Books, Mystic, CT
Winter 2019 Reading Group Indie Next List
---
"A slim, unsparing book about obsession in all its forms. R.O. Kwon puts you into the head of Will, who attempts to come to terms with the truths of his heady relationship with Phoebe, a fellow student whose guilt over her mother's death puts her in the path of a religious cult. I was enthralled by this book; I was infuriated by this book. I will not soon forget this book."
— Jamie Thomas, Women & Children First, Chicago, IL
Description
---
Now a National Bestseller

"Religion, politics, and love collide in this slim but powerful novel reminiscent of Donna Tartt's The Secret History, with menace and mystery lurking in every corner." --People Magazine

"The most buzzed-about debut of the summer, as it should be...unusual and enticing ... The Incendiaries arrives at precisely the right moment." --The Washington Post

"Radiant...A dark, absorbing story of how first love can be as intoxicating and dangerous as religious fundamentalism." --New York Times Book Review

A powerful, darkly glittering novel of violence, love, faith, and loss, as a young woman at an elite American university is drawn into a cult's acts of terrorism.

Phoebe Lin and Will Kendall meet in their first month at prestigious Edwards University. Phoebe is a glamorous girl who doesn't tell anyone she blames herself for her mother's recent death. Will is a misfit scholarship boy who transfers to Edwards from Bible college, waiting tables to get by. What he knows for sure is that he loves Phoebe.

Grieving and guilt-ridden, Phoebe is drawn into a secretive cult founded by a charismatic former student with an enigmatic past. When the group commits a violent act in the name of faith, Will finds himself struggling to confront a new version of the fanaticism he's worked so hard to escape. Haunting and intense, The Incendiaries is a fractured love story that explores what can befall those who lose what they love most.
About the Author
---
R. O. Kwon is a National Endowment for the Arts Literature Fellow. Her writing is published or forthcoming in the New York Times, New York, The Guardian, Vice, Buzzfeed, Time, Noon, Electric Literature, Playboy, and elsewhere. Born in South Korea, she has lived most of her life in the United States.
Praise For…
---
ONE OF THE BEST BOOKS OF THE YEAR: Buzzfeed, The Today Show, NPR, The Atlantic, LitHub, Electric Lit, PBS Books, Nylon, Bustle, Vulture, Entertainment Weekly, Real Simple, Newsweek, BBC

"Kwon is a writer of many talents, and The Incendiaries is a debut of dark, startling beauty." —San Francisco Chronicle

"Disarmingly propulsive." —Vogue

"A singular version of the campus novel … a story about spiritual uncertainty and about the fierce and undisciplined desire of [Kwon's] young characters to find something luminous to light their way through their lives." —NPR's "Fresh Air"

"If you only read one book this summer, make it this complex and searing debut novel." —Southern Living

"[With] a fairy-tale quality reminiscent of Donna Tartt's The Secret History … [The Incendiaries is] the rare depiction of belief that doesn't kill the thing it aspires to by trying too hard. It makes a space, and then steps away to let the mystery in." —The New Yorker

"A juicy look at campus mores…Kwon delivers a poignant and powerful look into the millenial mindset." —NPR Books

"Certain literary circles have been buzzing about R.O. Kwon's The Incendiaries for months. And this slim, intense novel is the rare book that lives up to its pre-publication hype." —Los Angeles Times

"One of those slim novels that contains multitudes, R.O. Kwon's debut novel shows how unreliable we are as narrators when we're trying to invent — and reinvent — ourselves." —Vulture

"If you haven't had a chance to pick up one of the buzziest novels of summer, take Emma Roberts' — and my — word for it: you can't miss The Incendiaries." —Bustle

"In R.O. Kwon's terrific new novel The Incendiaries, a cultist looks for meaning in tragedy. Kwon's debut is a shiningly ambitious look at how human beings try to fill the holes in their lives." —Vox

"Kwon's lush imaginative project … [is to expose] the reactionary impulses that run through American life…[creating] an impression of the mysterious social forces and private agonies that might drive a person to extremes." —The New Republic

"The main attraction and reward of this book is Kwon's prose. Spiky, restless and nervously perceptive, it exhales spiritual unease." —Wall Street Journal

"Kwon's multi-faceted narrative portrays America's dark, radical strain, exploring the lure of fundamentalism, our ability to be manipulated, and what can happen when we're willing to do anything for a cause." —Atlantic.com

"Deeply engrossing."—PBS Books

"Remarkable…Every page blooms with sensuous language…These are characters in quiet crisis, burning, above all, to know themselves, and Kwon leads them, confidently, to an enthralling end."—Paris Review

 "A God-haunted, willful, strange book written with a kind of savage elegance. I've said it before, but now I'll shout it from the rooftops: R. O. Kwon is the real deal."
—Lauren Groff, author of Fates and Furies and Florida

"Every explosive requires a fuse. That's R. O. Kwon's novel, a straight, slow-burning fuse. To read her novel is to follow an inexorable flame coming closer and closer to the object it will detonate—the characters, the crime, the story, and, ultimately, the reader."
—Viet Thanh Nguyen, author of The Sympathizer and The Refugees

"The Incendiaries probes the seductive and dangerous places to which we drift when loss unmoors us. In dazzlingly acrobatic prose, R. O. Kwon explores the lines between faith and fanaticism, passion and violence, the rational and the unknowable."
—Celeste Ng, author of Little Fires Everywhere and Everything I Never Told You 

"Absolutely electric, something new in the firmament. Everyone should read this book."
—Garth Greenwell, author of What Belongs to You

"A swift, sensual novel about the unraveling of a collegiate relationship and its aftermath. Kwon writes gracefully about the spiritual insecurities of millennials."
—Karan Mahajan, author of The Association of Small Bombs

"A classic love triangle between two tormented college students and God. The Incendiaries brings us, page by page, from quiet reckonings with shame and intimacy to a violent, grand tragedy. In a conflagration of lyrical prose, R. O. Kwon skillfully evokes the inherent extremism of young love."
—Tony Tulathimutte, author of Private Citizens

"An impressive, assured debut about the hope for personal and political revolution and all the unexpected ways it flickers out. Kwon has vital things to say about the fraught times we live in."
—Jenny Offill, author of Dept. of Speculation
 
"A profound, intricate exploration of how grief and lost faith and the vulnerable storm of youth can drive people to irrevocable extremes, told with a taut intensity that kept me up all night. R.O. Kwon is a thrilling writer, and her splendid debut is unsettled, irresistible company." 
—Laura van den Berg, author of The Isle of Youth and Find Me
Coverage from NPR