Better Now: Six Big Ideas to Improve Health Care for All Canadians (Paperback)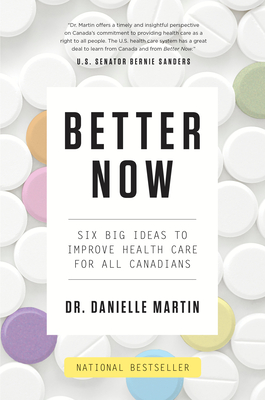 Description
---
From respected doctor and passionate Medicare advocate Danielle Martin, an important check-up on our health-care system--and what urgently needs fixing.


          Dr. Danielle Martin sees the cracks and challenges in our health-care system every day. In the style of Atul Gawande, she uses real patient stories to illustrate what works in our health-care system and what doesn't. Most importantly, she proposes six big ideas to make healthcare achievable and affordable: 1) a national drug program; 2) change the way we deliver care; 3) reduce unnecessary tests; 4) strengthen primary care; 5) create a guaranteed income program; and 6) scale up successful innovation.
    One of the most urgent reforms she advocates for is a national pharmacare program, instead of the piecemeal provincial pattern of buying drugs. Canada could save billions if drugs were bought in bulk by a single body, which in turn could fund a national prescription program. Patients also need a regular GP instead of overusing hospital Emergency Clinics. Hospitals need to take into account a patient's overall medical history, at every stage from admission to discharge. And since poverty is the greatest predictor of ill health, Dr. Martin argues that a guaranteed income could prevent and alleviate many health problems, reducing pressure on the system and our wallets. 
     Passionate, accessible, and authoritative, Dr. Martin is a fervent supporter of the best of Medicare and a persuasive critic of what needs fixing.
About the Author
---
DR. DANIELLE MARTIN, MD, CCFP, FCFP, MPP, is a family physician in Toronto and Vice President of Medical Affairs and Health System Solutions at Women's College Hospital. She teaches family medicine and health care policy at the University of Toronto and is a leader in the debate about the future of health care in Canada. In her first year of practice, she helped launch Canadian Doctors for Medicare to promote a high quality, equitable, and sustainable health system. She was named Canada's 8th most powerful doctor by The Medical Post in 2015 and is a regular contributor to CBC-TV's The National. She writes a monthly column for Chatelaine.
Praise For…
---
A Toronto Star Canadian Non-Fiction Bestseller
A Toronto Star Original Non-Fiction Bestseller
A Globe and Mail Canadian Non-Fiction Bestseller
A Globe and Mail Hardcover Non-Fiction Bestseller 

Longlisted for British Columbia's National Award for Canadian Non-Fiction 2018

"It's a prescription to improve health care across Canada" —Healthscape

"Dr. Martin offers a timely and insightful perspective on Canada's commitment to providing health care as a right to all people. The U.S. health care system has a great deal to learn from Canada and from Better Now." —U.S. Senator Bernie Sanders
 
"Universal healthcare is at the very heart of a caring and equitable Canada. Danielle Martin provides us with a practical, accessible and deeply inspiring roadmap for how we can live up to that sacred promise. —Naomi Klein, author of This Changes Everything
 
"Dr. Danielle Martin has written an outstandingly useful book, for all Canadians, as the nation once again faces the challenges of ensuring effective health care for all. In doing so, Dr. Martin avoids the easy formulae of blanket solutions and properly roots health care's future success in making hard choices on delivery, scope, and structure, based on Canadian values." —Roy Romanow, former Royal Commissioner on the Future of Health Care in Canada and Senior Fellow, Political Studies, University of Saskatchewan
 
"A clear-eyed, fearless and detailed manifesto, written with empathy and analytical‎ rigor. For doctors, patients and all Canadians, Better Now is an inspiring prescription for the right balance in our shared health care framework." —Hon. Hugh Segal, Master of Massey College, University of Toronto and former director of the Institute for Public Policy