Healing Fibroids: A Doctor's Guide to a Natural Cure (Paperback)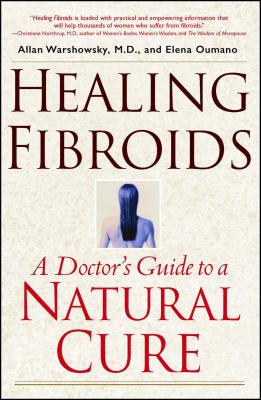 $17.99

Usually Ships in 1-5 Days
Description
---
An exciting new approach to regaining health without surgery!

Fact: By the time they reach menopause forty percent of American women have at least one uterine fibroid; 600,000 women are diagnosed each year.
Fact: Fibroids are the leading cause of hysterectomy, the second most common surgical procedure performed on women.
Fact: Natural, holistic medicine can heal fibroids without invasive surgery.

Fibroid tumors, while usually benign, can swell a woman's uterus to the size of a basketball, frequently causing heavy menstrual bleeding, cramping, bladder infections, and even infertility. Most doctors recommend surgery as the only answer. Now this innovative holistic program brings new hope for a surgery-free life to millions of American women.

Dr. Allan Warshowsky combines traditional Western medicine and holistic science to cure not just the fibroid condition but also the underlying imbalances and systemic dysfunctions that can cause fibroids. With an exciting program of diet, exercise, supplements, herbs, and mind/spirit work, Dr. Warshowsky shows fibroid sufferers how to become the strong, healthy women they deserve to be.
About the Author
---
Allan Warshowsky, M.D., has been a practicing, board-certified obstetrician and gynecologist for more than twenty years and is currently the director of The Women's Program at New York's Beth Israel Hospital's Center for Health and Healing. He is a popular speaker on the subjects of women's health and holistic healing.
Praise For…
---
Joel M. Evans, M.D. Diplomate of the American Board of Obstetrics and Gynecology, Founding Diplomate of the American Board of Holistic Medicine, and Founder and Director, The Center for Women's Health, Darien, CT Healing Fibroids empowers women with the information and inspiration they seek to expand their treatment options far beyond medication and surgery. A must-read for all women with fibroids.

Christine Northrup, M.D. author of Women's Bodies, Women's Wisdom and The Wisdom of Menopause Healing Fibroids is loaded with practical and empowering information that will help thousands of women who suffer from fibroids.