Food As Medicine: How to Use Diet, Vitamins, Juices, and Herbs for a Healthier, Happier, and Longer Life (Paperback)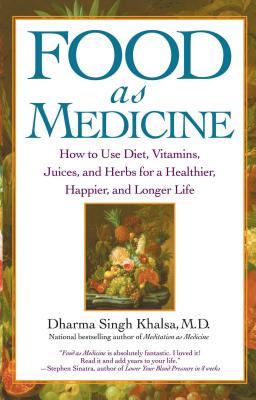 $18.99

Usually Ships in 1-5 Days
Description
---
A holistic approach to healing through making smart food choices by health guru Dr. Dharma Singh Khalsa that combines spiritual advice and integrative medicine to provide healthful recipes and nutrition plans targeting common and chronic illnesses for a longer, healthier, natural life.

Did you know that blueberries can increase brain longevity? That kiwi fruit can be an excellent weapon for battling cancer and heart disease? That pears can help prevent fibroid tumors?

From the bestselling author of Meditation as Medicine, comes a remarkable book that helps you achieve maximum health by eating well. Grounded in science, Food as Medicine is a pragmatic and accessible reference that sets readers on the right nutritional path. Dr. Khalsa then explains how to use natural organic juices and foods as medicine, and how food can help reverse the progress or diminish the symptoms of certain diseases, such as Alzheimer's and Hepatitis C.

Drawing on patient case histories, Food as Medicine outlines the seven principles of "The Khalsa Plan" for healthy eating, details ailment-specific nutritional plans, and lays out dozens of delicious recipes that promote overall well-being. After all, food is not only the original medicine -- it's the best medicine.
About the Author
---
Guru Dharam S. Khalsa teaches at the School of Kundalini Yoga (SKY) in the UK. He studied with Yogi Bhajan—the man who introduced the practice of Kundalini Yoga to the United States—for more than twenty years.
Praise For…
---
Deepak Chopra Coauthor of The Chopra Center Cookbook A natural resource for healing, rich in knowledge and practical application.

Victor S. Sierpina, M.D. Associate professor, University of Texas, Galveston Dr. Khalsa blends the joy of eating with solid advice about health. A must read for those who believe, as I do, that good health starts in the kitchen.

Stephen Sinatra Author of Lower Your Blood Pressure in 8 weeks Food as Medicine is absolutely fantastic. I loved it! Read it and add years to your life.