Wellspring of Chaos (Mass Market Paperbound)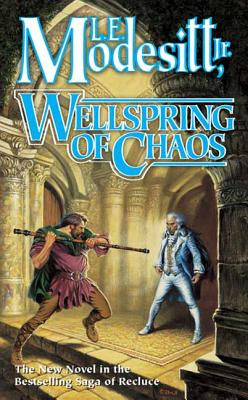 Description
---
"An intriguing fantasy in a fascinating world, with characters who catch you up." Robert Jordan, New York Times Bestselling author of The Wheel of Time(r) series
Kharl is the best cooper in Brysta, one of the major cities in Nordla, and his life has been as ordered and dependable as his barrels. His trouble begins when he saves a neighbor's daughter from the violent advances of two upper-class men. Then he rescues an actual rape victim he finds unconscious in an alley, a blackstaffer a young expatriate mage from Recluce, and that makes his wife very uneasy. The culprit in both cases turns out to have been Egen, the cruel and corrupt son of the local ruler. When the blackstaffer is mysteriously murdered in Kharl's cooperage, Kharl is jailed, tried, and flogged, and in a shocking turnaround released and his consort executed for the murder, which she did not commit. Egen again. Kharl ends up on the run, with just a handful of coins and a few clothes, but he also takes the slain woman's black staff and her book, The Basis of Order, which explains the principles of its power. The diligent cooper is about to learn a new, very different skill.
L.E. Modesitt, Jr.'s bestselling fantasy novels set in the magical world of Recluce are among the most popular in contemporary fantasy. Each novel tells an independent story that nevertheless reverberates though all the other books in the series, to deepen and enhance the reading experience. Rich in detail, the Saga of Recluce is a feast of wondrous marvels.
Saga of Recluce
#1 The Magic of Recluce
#2 The Towers of Sunset
#3 The Order War
#4 The Magic Engineer
#5 The Death of Chaos
#6 Fall of Angels
#7 The Chaos Balance
#8 The White Order
#9 Colors of Chaos
#10 Magi i of Cyador
#11 Scion of Cyador
#12 Wellspring of Chaos
#13 Ordermaster
#14 Natural Order Mage
#15 Mage-Guard of Hamor
#16 Arms-Commander
#17 Cyador's Heirs
#18 Heritage of Cyador
#19 The Mongrel Mage (forthcoming)
Story Collection: Recluce Tales
Other Series by L.E. Modesitt, Jr.
The Imager Portfolio
The Corean Chronicles
The Spellsong Cycle
The Ghost BooksThe Ecolitan Matter
About the Author
---
L. E. Modesitt, Jr., is the bestselling author of the fantasy series The Saga of Recluce, Corean Chronicles, and the Imager Portfolio. His science fiction includes Adiamante, the Ecolitan novels, the Forever Hero Trilogy, and Archform: Beauty. Besides a writer, Modesitt has been a U.S. Navy pilot, a director of research for a political campaign, legislative assistant and staff director for a U.S. Congressman, Director of Legislation and Congressional Relations for the U.S. Environmental Protection Agency, a consultant on environmental, regulatory, and communications issues, and a college lecturer. He lives in Cedar City, Utah.
Praise For…
---
"Strong supporting characters, vivid settings and creative approach to mythos and magic enhance this richly detailed story. New readers should feel comfortable in Modesitt's world, where chaos and order reign in delicate balance, while series fans will welcome this return to familiar ground. As usual, Modesitt handles his world-building and characterization with ease. While knowledge of the previous books in the series will enhance the reading experience, it's not a requirement to enjoying this stand-alone tale. This newest entry in the Saga of Recluce is a gift for fans and new readers alike."-Romantic Times Bookclub on Wellspring of Chaos (a "Top Pick")

"The prolific Modesitt's 12th Recluce fantasy, his first since 2001's Scion of Cyador, delights from start to finish. . . . .In a genre saturated with callow youngsters who grow into heroes, Modesitt effortlessly builds an epic adventure around an ordinary, middle-aged man. This marks a welcome new chapter in the Recluce saga, with the ending all but promising a sequel."-Publishers Weekly on Wellspring of Chaos

"Modesitt's excellent new story has thought-provoking underpinnings that will snare newcomers as well as old Recluce hands."-Booklist on Wellspring of Chaos



"Modesitt's excellent new story has thought-provoking underpinnings that will snare newcomers as well as old Recluce hands."



"In a genre saturated with callow youngsters who grow into heroes, Modesitt effortlessly builds an epic adventure around an ordinary, middle-aged man. This marks a welcome new chapter in the Recluce saga. . . ."



"This newest entry in the Saga of Recluce is a gift for fans and new readers alike." (A "Top Pick")