Michael Curtiz: A Life in Film (Screen Classics) (Paperback)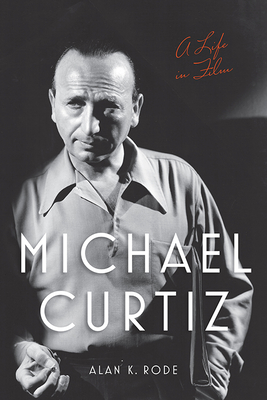 $30.00

Usually Ships in 1-5 Days
Description
---
Academy Award--winning director Michael Curtiz (1886--1962) -- whose best-known films include Casablanca (1942), Yankee Doodle Dandy (1942), Mildred Pierce (1945) and White Christmas (1954) -- was in many ways the anti-auteur. During his unprecedented twenty-seven year tenure at Warner Bros., he directed swashbuckling adventures, westerns, musicals, war epics, romances, historical dramas, horror films, tearjerkers, melodramas, comedies, and film noir masterpieces. The director's staggering output of 180 films surpasses that of the legendary John Ford and exceeds the combined total of films directed by George Cukor, Victor Fleming, and Howard Hawks.
In the first biography of this colorful, instinctual artist, Alan K. Rode illuminates the life and work of one of the film industry's most complex figures. He explores the director's little-known early life and career in his native Hungary, revealing how Curtiz shaped the earliest days of silent cinema in Europe before immigrating to the United States in 1926. In Hollywood, Curtiz earned a reputation for explosive tantrums, his difficulty with English, and disregard for the well-being of others. However, few directors elicited more memorable portrayals from their casts, and ten different actors delivered Oscar-nominated performances under his direction.
In addition to his study of the director's remarkable legacy, Rode investigates Curtiz's dramatic personal life, discussing his enduring creative partnership with his wife, screenwriter Bess Meredyth, as well as his numerous affairs and children born of his extramarital relationships. This meticulously researched biography provides a nuanced understanding of one of the most talented filmmakers of Hollywood's golden age.
About the Author
---
Alan K. Rode is the author of Charles McGraw: Film Noir Tough Guy. A writer and film scholar, he is also the host and producer of the Arthur Lyons Film Noir Festival and director-treasurer of the Film Noir Foundation. He lives in Woodland Hills, California.