Walking Home: A Poet's Journey (Paperback)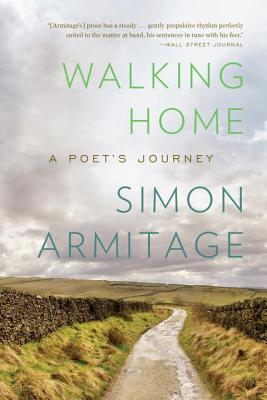 Description
---
Shortlisted for the Portico Prize for Nonfiction
Nineteen days, 256 miles, and one renowned poet walking the backbone of England.
The wandering poet has always been a feature of our cultural imagination. Odysseus journeys home, his famous flair for storytelling seducing friend and foe. The Romantic poets tramped all over the Lake District searching for inspiration. Now Simon Armitage, with equal parts enthusiasm and trepidation, as well as a wry humor all his own, has taken on Britain's version of our Appalachian Trail: the Pennine Way. Walking "the backbone of England" by day (accompanied by friends, family, strangers, dogs, the unpredictable English weather, and a backpack full of Mars Bars), each evening he gives a poetry reading in a different village in exchange for a bed. Armitage reflects on the inextricable link between freedom and fear as well as the poet's place in our bustling world. In Armitage's own words, "to embark on the walk is to surrender to its lore and submit to its logic, and to take up a challenge against the self."
About the Author
---
Simon Armitage is Professor of Poetry at the University of Leeds and from 2015 to 2019 served as the Oxford Professor of Poetry. He has published ten collections of poetry and is the author of four stage plays, over a dozen television films, a libretto, two novels, and three memoirs. His poetry has won numerous awards, including a Gregory Award, a Forward Prize, a Lannan Literary Award, and the Queen's Gold Medal for Poetry. In 2019 he was appointed Poet Laureate of the United Kingdom.
Praise For…
---
Part pilgrimage and part stunt… He writes with self-effacing humor and mixes a few of his own poems with memoir, natural history, and literary reflections… Though Armitage complains at times that the Pennine Way is an 'unglamorous slog among soggy, lonely moors' …his account is never a slog for the reader.
— New Yorker

Never showy or excitable, his prose has a steady, phlegmatic, gently propulsive rhythm perfectly suited to the matter at hand, his sentences in tune with his feet.
— The Wall Street Journal

The walk is serious, but Armitage knows how to have fun along the way . . . managing a surprise ending that feels, psychically, satisfying.
— Boston Globe

Entertaining…Walking Home riffs on the ancient correlation between itinerancy and story-telling, with embedded tales of varying tallness coming and going in an almost casual manner.

— The Guardian

What makes Armitage's pilgrimage special is that he attempts to fuel it on poetry alone. . . . [T]his is an adventure story, compellingly and humorously told.
— Daily Beast

Walking Home fits into the classic unnecessary journey genre, with a cast of local characters and transcendent moments…And never will reading about a hot shower and some foot ointment be quite so enjoyable.

— The Independent

Starred review. [A]n ingenious idea for a journey and a brilliant idea for a book, which includes some of his poems. In this entertaining jaunt through rural Britain and unpredictable weather, part travel guide and part memoir, Armitage describes his adventures, from collie dogs growling at his heels and "mean-looking cows" to the unbridled generosity of strangers. A travel gem.
— Booklist

Lovely… Armitage's account is so observant, so funny and so intensely likeable you leave it wishing he'd picked a longer route. The dialogue is note-perfect and the jokes alone are worth the journey. And at the end of it all, Armitage has achieved far more than his stated ambition. Walking Home tells us not just about the bones of Britain, but about the connections still to be forged between people and print, and the everlasting power of an open heart.

— The Telegraph

[Armitage] displays a sharp appreciation of place, both in its unique contours and its mystery…doling out small stories—about the people he walks with or the history of the landscape, the misery of midges or the terror of a deep fog high in the Uplands—that flash like sun on chrome.
— Kirkus