Human Medical Thermography (Paperback)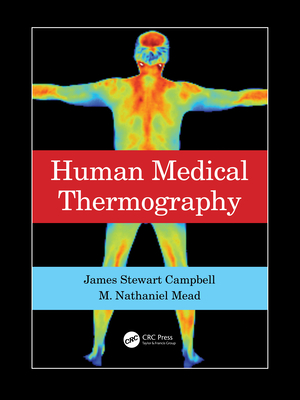 Description
---
Want to incorporate medical infrared imaging into your practice but can't find a book that explains how to do it? Well, this book is for you Complete, practical instructions are provided on imager choice and care as well as the physical needs of a thermography service from the imaging room layout to the computer requirements. How to acquire, interpret, and report a thermal examination is covered in detail. Fully illustrated with both normal and abnormal images, Human Medical Thermography provides practitioners of all types with the knowledge to design and operate a scientifically based thermography practice.
Key Features
- Shows how to select the best thermal imager for your clinical practice, care for it, and use it correctly.
- Explains how to take medical quality thermal images and scale them for maximum visual effect using the guidelines detailed in this book.
- Details myriad ways that thermography can aid in medical diagnosis and improve surgical outcomes.
About the Author
---
Dr James Stewart Campbell received his bachelor's degree in Electrical Engineering from Lehigh University in 1966, and then went on to study medicine at the Albany Medical College in Albany, NY, receiving his MD degree in 1970. After completing a straight-surgical internship at the University of Washington, he helped found The Country Doctor Clinic in Seattle and practiced general medicine there until 1975. In 1976, Dr. Campbell sfounded the nonprofit Mountain Peoples' Clinic and had a successful practice of general medicine. He also taught electronics at Tri-County Community College in Murphy, NC.Dr. Campbell took a leave from clinical medicine in 1986 to work in biomedical engineering, specializing in biological-to-electronic interfacing. His design projects have included air plethysmography, non-invasive blood pressure devices, ultrasound imaging and flowmeters, photo-plethysmography, fluorescence microscopy, bio-impedance, bio-acoustics, intra-cardiac sensor-stimulators, and implantable neural probe systems.In 2010, Dr. Campbell started a thermography service for Integrative Life Solutions Inc. in Clemmons, NC. Over the next 7 years, the practice became a successful provider of general and breast thermography. After retiring from medical practice in 2017, he assembled the wealth of objective thermal data from the service into a huge spreadsheet derived from over one thousand imaging sessions. These thermal images and numerical data, along with much additional research and writing help of his co-author, form the foundation of this book. Dr. Campbell lives in Pfafftown, North Carolina. He is a Life Senior Member of the Institute of Electrical and Electronic Engineers (IEEE), and a Senior Member of the American Academy of Thermology (AAT).M. Nathaniel Mead, MSc, earned his master's degree in Nutritional Epidemiology from the UNC Gillings School of Global Public Health. Through his work as a medical-scientific writer, he has over 40 scientific articles listed on PubMed, including papers published in the International Journal of Cancer, Journal of the National Cancer Institute, Integrative Cancer Therapies, Environmental Health Perspectives, and Cancer Treatment Reviews. In addition to nine years as a contributing editor to Natural Health magazine, Mead served for 20 years as an editorial board member for Integrative Cancer Therapies (Sage Publications) and as a research associate for the Block Center for Integrative Cancer Treatment in Skokie, Illinois. He underwent clinical training in thermography under his coauthor and has lectured at the annual scientific session of the American Academy of Thermology.