The Misoprostol Treatment (Paperback)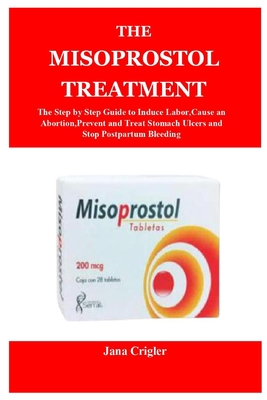 Description
---
Misoprostol is a prostaglandin analog that is used to treat ulcers caused by NSAIDs, to manage miscarriages, to avoid postpartum hemorrhage, and to perform first-trimester abortions. Prostaglandin receptor activation in the stomach lowers gastric acid output, but stimulation in the uterine and cervix can enhance the strength and frequency of contractions while decreasing cervical tone.
GET YOUR COPY TODAY BY SCROLLING UP AND CLICKING BUY NOW TO GET YOUR COPY NOW IN ONE CLICK
This medicine is intended to prevent stomach ulcers when you are using nonsteroidal anti-inflammatory drugs (NSAIDs) (such as aspirin, ibuprofen, or naproxen), especially if you are at risk of developing ulcers or have a history of ulcers. Misoprostol can help you avoid significant ulcer complications such as hemorrhage. By reducing the quantity of acid that comes into touch with your stomach lining, this medicine preserves it. Additionally, this medicine is used in conjunction with another medication (mifepristone) to terminate a pregnancy (abortion).
Misoprostol administration
Take time to read it attentively. Consult your doctor, nurse, or pharmacist if you have any questions regarding this medication.
The recommended dose is determined on your medical condition and response to therapy.
If you are taking this medication to prevent stomach ulcers, take it by mouth four times a day, after meals and before night to limit diarrhea, or as advised by your doctor.
Take this drug by mouth precisely as prescribed by your doctor if you are taking it for abortion.
If you are utilizing this medicine to induce labor, it will be inserted into your vagina by your healthcare practitioner.
Avoid eating magnesium-containing antacids while using misoprostol, since they may exacerbate the diarrhea caused by the medication. If you require an antacid, see your physician or pharmacist for assistance in selecting a medication.
Continue taking this medication for ulcer prevention for as long as you are taking NSAIDs. Utilize this drug on a consistent basis to obtain the most advantages. Bear in mind that you should use it at the same times each day.
Notify your physician if your issue worsens or persists.