The Great Quake: How the Biggest Earthquake in North America Changed Our Understanding of the Planet (Hardcover)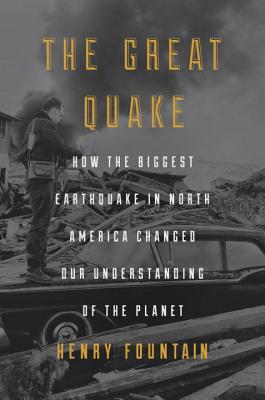 $28.00
Email or call for price.
Description
---
New York Times Book Review Editors' Choice

In the bestselling tradition of Erik Larson's Isaac's Storm, The Great Quake is a riveting narrative about the biggest earthquake in North American recorded history -- the 1964 Alaska earthquake that demolished the city of Valdez and swept away the island village of Chenega -- and the geologist who hunted for clues to explain how and why it took place.

At 5:36 p.m. on March 27, 1964, a magnitude 9.2. earthquake – the second most powerful in world history – struck the young state of Alaska. The violent shaking, followed by massive tsunamis, devastated the southern half of the state and killed more than 130 people.  A day later, George Plafker, a geologist with the U.S. Geological Survey, arrived to investigate.  His fascinating scientific detective work in the months that followed helped confirm the then-controversial theory of plate tectonics.

In a compelling tale about the almost unimaginable brute force of nature, New York Times science journalist Henry Fountain combines history and science to bring the quake and its aftermath to life in vivid detail.  With deep, on-the-ground reporting from Alaska, often in the company of George Plafker, Fountain shows how the earthquake left its mark on the land and its people -- and on science.



About the Author
---
HENRY FOUNTAIN has been a reporter and editor at the New York Times for two decades, writing about science for most of that time. From 1999 to 2009 he wrote "Observatory," a weekly column in the Science Times section.  He was an editor on the national news desk and the Sunday Review and was one of the first editors of Circuits, the Times' pioneering technology section. Prior to coming to the Times, Fountain worked at the International Herald Tribune in Paris, New York Newsday, and the Bridgeport Post in Connecticut. He is a graduate of Yale University, where he majored in architecture. He and his family live just outside of New York City. Learn more at henry-fountain.com.
Praise For…
---
"The Great Quake is rich with...revelations; and I felt grateful, even giddy, as I read them. Fountain's book is like a gift box: Open the lid to peek at the treasures of the Earth. I could geek out on such details for a month." 
--New York Times Book Review, Editor's Choice

"In his entertaining and enlightening book, The Great Quake, Henry Fountain tells the story of what is sometimes called 'Alaska's Good Friday Earthquake…' Fountain sets the scene for an abrupt wake-up call, and his description of how it unfolds is gripping."
--San Francisco Chronicle

"As elegant as a Beethoven symphony...journalist Henry Fountain provides us with a forthright and timely reminder of the startling historical consequences of North America's largest known earthquake."
--Nature

"The Great Quake is an elegant showcase of how the progressive work of numerous scientists over time…can be pieced together into an idea that reshapes how we see and understand the planet."
--Science News Magazine

"Mr. Fountain weaves a compelling scientific detective story."
--The Wall Street Journal

"Fountain isn't a showy writer, but there's a fever-dream quality to his account of those five minutes that 'made the earth ring like a bell' that captures the hallucinogenic oddness of a world off-kilter, out-of-joint, suddenly uncooperative. Combinations of words with no earthly business being together occur…Interleaving snapshots of a lost world, the primal power of nature and high science, The Great Quake is an outstanding work of nonfiction." 
--The LA Times

"Fountain atmospherically depicts life in the frontier communities…that were razed when 'the earth (rang) like a bell' for five minutes. The narrative is haunted by images that live long in the mind, not least a crimson tide of dead red snapper flushed from the roiling depths."
--The Oregonian 

"The detective work involved in reconstructing land movements produced by an earthquake is itself a compelling tale… The book engagingly recounts life in the immediate aftermath of the earthquake."
--Science

"Fountain's new book is a powerful lesson that the term 'solid ground' is one of humanity's greatest illusions… The strength of [The Great Quake] is that the veteran science reporter balances anecdotes with a clear explanation of the technical details and what has been learned during the past half-century."
--Alaska Dispatch News

"'The Great Quake' explains how one of North America's worst recent natural disasters led to a fascinating insight. Henry Fountain offers a gripping tale of loss, heroism, and, ultimately, discovery." 
--Elizabeth Kolbert, Pulitzer prize-winning author of The Sixth Extinction
 
"Henry Fountain knows earthquakes, and he knows how to spin a yarn. 'The Great Quake' is the fascinating result. It takes meticulous research and real narrative skill to tell a story that moves this fast yet still feels so complete. The book shines on two levels: as a portrait of two quirky frontier communities before, during and after a stunning disaster, and as the story of an unpretentious geologist whose brilliant analysis of the great quake's causes provided crucial backing for one of the biggest ideas in all of science."  
 --Dan Fagin, Pulitzer prize-winning author of Tom's River

"For five terrifying minutes in 1964, the earth shook beneath Anchorage, Alaska. It devastated the city, and towns and villages throughout the state. In this fast-paced, engaging account of that disaster, Henry Fountain tells us what it was like to be there. His interviews with fortunate survivors bear witness to the pluck and determination of the human spirit--and reveals the better side of our natures in times of crisis. Read this book to better understand nature's power--and our human resilience. Fountain's riveting, 'you were there' account pulls you in, and keeps you turning the pages to find out who survived--and how." 
--Virginia Morell, author of Animal Wise, a NY Times bestseller.

"Riveting. Science journalism at its best—lucid, clear, engaging, and authoritative. My hands were shaking after reading his description of the havoc and raw fury unleashed by mother nature in a 9.0 earthquake."
--Michio Kaku, professor of theoretical physics and New York Times bestselling author of The Future of the Mind



Coverage from NPR