The Starless Sea: A Novel (Paperback)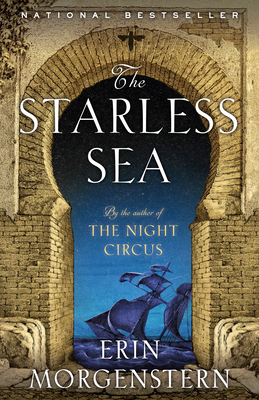 $20.00

Usually Ships in 1-5 Days
Staff Reviews
---
Did you read "Night Circus"????? Get Ready to be enchanted once again!
— THE BOOK SELLER
Zachary Ezra Rollins finds an impossible book that tells about a fantastical place beneath our feet. "Zachary did not go through the door yet..." it reads.
— From
Sunny's Picks
Morgenstern weaves an enchanting tale full of myth, mystery, and love. Follow main character Zachary as he enters the world at the shore of the Starless Sea. This story exudes enchantment, brimming over with symbolism and beauty, Morgenstern excells at creating worlds you will want to visit again and again.
-Jessica
— From
Jessica
November 2019 Indie Next List
---
"Rarely is a book such an absolute feast—for the senses, for the intellect, and, above all, for the soul. Morgenstern dazzles in her latest novel, an intricately wrought tale populated by lovers, mystery, and sumptuous magic. The Starless Sea is an ode to book lovers everywhere, reanimating the excitement as well as the pure possibility felt when reading books like Harry Potter or The Lord of the Rings for the first time. I am reminded of the famous C.S. Lewis quote, 'One day, you'll be old enough to read fairytales again.' When that day comes, The Starless Sea will be waiting for you."
— Laura Graveline, Brazos Bookstore, Houston, TX
Winter 2020 Reading Group Indie Next List
---
"I cannot recommend this novel enough. From Zachary's perfect characterization as a curious, if unmoored, graduate student to the worlds upon worlds of story, The Starless Sea is magnificent. Each thread opens a door (figuratively and literally) to one of the most thrilling and rewarding universes I've ever read. Add to that several impossible and wonderful romances, and you have an excellent addition to any book lover's shelf."
— Demi Marshall, BookPeople, Austin, TX
Description
---
NATIONAL BESTSELLER • From the bestselling author of The Night Circus, a timeless love story set in a secret underground world—a place of pirates, painters, lovers, liars, and ships that sail upon a starless sea.

Zachary Ezra Rawlins is a graduate student in Vermont when he discovers a mysterious book hidden in the stacks. As he turns the pages, entranced by tales of lovelorn prisoners, key collectors, and nameless acolytes, he reads something strange: a story from his own childhood.

Bewildered by this inexplicable book and desperate to make sense of how his own life came to be recorded, Zachary uncovers a series of clues—a bee, a key, and a sword—that lead him to a masquerade party in New York, to a secret club, and through a doorway to an ancient library hidden far below the surface of the earth. What Zachary finds in this curious place is more than just a buried home for books and their guardians—it is a place of lost cities and seas, lovers who pass notes under doors and across time, and of stories whispered by the dead. Zachary learns of those who have sacrificed much to protect this realm, relinquishing their sight and their tongues to preserve this archive, and also of those who are intent on its destruction.

Together with Mirabel, a fierce, pink-haired protector of the place, and Dorian, a handsome, barefoot man with shifting alliances, Zachary travels the twisting tunnels, darkened stairwells, crowded ballrooms, and sweetly soaked shores of this magical world, discovering his purpose—in both the mysterious book and in his own life.

About the Author
---
ERIN MORGENSTERN is the author of The Night Circus, a number-one national bestseller that has been sold around the world and translated into thirty-seven languages. She has a degree in theater from Smith College and lives in Massachusetts.
Praise For…
---
A best book of the year: The Guardian, Good Housekeeping, Real Simple, and The Milwaukee Journal Sentinel

"Anyone who's read Erin Morgenstern's wildly successful fiction debut, The Night Circus, knows how meticulously she crafts her imaginary worlds... the reader [is] immersed in a multitude of stories, the threads of which gradually weave together to a haunting conclusion."—NPR

"A mythical tale…a story about stories, all essentially relating to Fate and Time. Morgenstern nests a glittering trove of meta-narratives, myths, folkloric fables within a main storyline about a hero's quest. The Starless Sea is the kind of book that could spawn a Harry Potter-esque cult. I can imagine fan sites devoted to mapping, analyzing and connecting the dots among its fantastical intricacies. I predict readers for whom it will become a holy of holies, one of their most treasured books of all time. It's that kind of book. "—Newsday

"A richly imaginative ode to books and storytelling...this fantasy-filled novel entwines a mysterious underground world with the story of a grad student on a quest to understand his past."  —People

"From the author of The Night Circus comes a wildly fanciful lark that has all the hits: mystery, love, libraries, Harry Potter references, and pirates. It's a complex, darkly beautiful story with some of the most inventive storytelling we've read all year."—Good Housekeeping, Best Book of 2019

"The most joyous reading experience I've had in recent memory... It is, not to put too fine a point on it, wonderful...  a master-class in plotting and prestidigitation... unabashedly romantic... a warm, honeyed bath of words and ideas."—Robert Wiersema, The Toronto Star

"Assuredly beautiful... The novel reads like panel after panel of mythic illustrations... It demands that its readers interpret it in an older way; the way we read The Faerie Queene... Well-written... The novel's scope and ambition are undeniable."—Natasha Pulley, The Guardian

"A mystical adventure in an enchanted universe... The novel is not simply a quest narrative–it's also a meta-examination of stories that demands the reader's patience–and then rewards it... Morgenstern's elegant, poetic prose keeps the pages turning as she begins to draw connections within a web of tales that reads like an ode to stories, themselves, and celebrates the distinct pleasure that comes from engaging with a text. For Zachary, that pleasure outweighs any temptation he might have to return to school and his regular life. It leads, instead, to a journey of sacrifice and self-discovery as he unearths his own place in the puzzling book's narrative. For everyone else, the thrill comes from watching him on the ride." —Annabel Gutterman, Time

"Erin Morgenstern has magic to make... the author returns with a new fantastical fairy-tale for grown-ups... Comparisons to the likes of Tolkien, Carroll, and C.S. Lewis abound. The Starless Sea poses big questions about stories — the ones we read, the ones we live, and the ones we tell ourselves. And at the heart of her work lies the themes that have provoked those comparisons: redemption, sacrifice, fate, time, reincarnation.... We're willing to bet the embrace of this deeper, darker, more complex follow-up novel might be close to a sure thing. As Morgenstern posits, The Starless Sea is a door to another world — one just waiting for readers to open it."—Maureen Lee Lenker, Entertainment Weekly

"Extravagantly imaginative... Her new book arrives eight years after her high-wire fantasy of a first novel The Night Circus, and it's just as magical but even more daring... The stuff of a bibliophile's dreams... There are nods to Tolkien and Sendak, Susanna Clarke and Lev Grossman, Grimm and Gaiman. The intricate world-building is nothing short of fabulous, the prose lush and filigreed." —Nancy Pate, Minneapolis Star Tribune

"A timeless love story"—The Nerd Daily

"A magnificent quest, a sense of unfolding adventure and danger, gold-wrought fantasy, and endless provocation on what storytelling really means." —Library Journal, starred review

"A high-wire feat of metatextual derring-do [and] a stunning array of linked fables, myths and origin stories. . . . It is exquisitely pleasurable to watch the gears of this epic fantasy turn once they're set in motion. As in The Night Circus, Morgenstern is at her best when she imagines worlds and rooms and parties in vivid detail. . . . This novel is a love letter to readers as much as an invitation: Come and see how much magic is left in the world. Fans of Neil Gaiman and V.E. Schwab, Kelly Link and Susanna Clarke will want to heed the call. An ambitious and bewitching gem of a book with mystery and passion inscribed on every page." —Kirkus Reviews, starred review

"Morgenstern's new fantasy epic is a puzzlebox of a book, full of meta-narratives and small folkloric tales that will delight readers. . . . Morgenstern uses poetic, honey-like prose to tell a story that plays with the very concept of what we expect and want from our stories. . . . She trusts her readers to follow along and speculate, wonder and make leaps themselves . . . giving the book a mythic quality that will stick with readers long after they put it down. The massive legion of readers who loved Morgenstern's debut will be clamoring to recapture the magic of that reading experience." —Booklist, starred review

"This love letter to bibliophiles is dreamlike and uncanny, grounded in deeply felt emotion, and absolutely thrilling." —Publishers Weekly, starred review

"A page-turner. . . . It's unlikely [The Night Circus fans] will be disappointed by this sweeping follow-up, which unfolds an epic romance within a secret underground world of lost cities, handsome pirates and endless puzzles to be solved." —Entertainment Weekly

"[A] gorgeously written epic love story, filled with magic and mystery." ⁠—Popsugar

"A spellbinding novel. . . . I could not put it down, and when I finished, I turned immediately back to the first page so I wouldn't have to leave this magical world. If you believe in the power of stories to transcend time and space, to marry love and fate, read this book!" —Angie Kim, author of Miracle Creek