Modern Death: How Medicine Changed the End of Life (Paperback)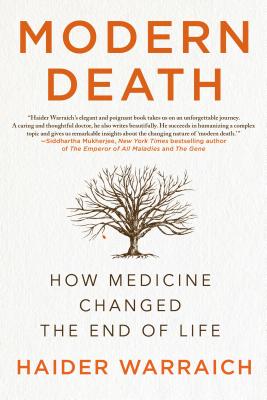 $19.99

Usually Ships in 1-5 Days
Description
---
"Warraich's elegant and poignant book takes us on an unforgettable journey....He succeeds in humanizing a complex topic." —Siddhartha Mukherjee, New York Times bestselling author of The Gene

There is no more universal truth in life than death. No matter who you are, it is certain that one day you will die, but the mechanics and understanding of that experience will differ greatly in today's modern age. Dr. Haider Warraich is a young and brilliant new voice in the conversation about death and dying. Dr. Warraich takes a broader look at how we die today, from the cellular level up to the very definition of death itself.

The most basic aspects of dying—the whys, wheres, whens, and hows—are almost nothing like what they were mere decades ago. Beyond its ecology, epidemiology, and economics, the very ethos of death has changed. Modern Death, Dr. Warraich's debut book, explores the rituals and language of dying that have developed in the last century, and how modern technology has not only changed the hows, whens, and wheres of death, but the what of death.

Delving into the vast body of research on the evolving nature of death, Modern Death will provide readers with an enriched understanding of how death differs from the past, what our ancestors got right, and how trends and events have transformed this most final of human experiences.
About the Author
---
Dr. Haider Warraich graduated from medical school in Pakistan in 2009. He did his residency in internal medicine at Harvard Medical School's Beth Israel Deaconess Medical Center, one of the main teaching hospitals of Harvard Medical School. He is currently a fellow in cardiology at Duke University Medical Center. His medical and Op Ed pieces have appeared in many media outlets including the New York Times, The Atlantic, the Wall Street Journal,Slate, and the LA Times among others.
Praise For…
---
"Warraich has assembled an impressive fund of knowledge on death and dying that—along with his real-world medical experiences--will allow him to 'attend' to his patients in the truest sense of the word." —Health Affairs

"[Warraich] may not have all the answers, but [he] stimulates all the right questions in all 13 chapters of highly relatable prose." —The American Society of Anesthesiologists

"Modern Death, How Medicine Changed the End of Life is timely. [...] He layers an exploration of a complex topics, ranging broadly from the microscope to the intensive care unit, to the courtroom and on to Star Trek: The Next Generation. Through this construction, he presents an ambitious review of how the end of life interacts with our modern practice of medicine." —Journal of the American Medical Association: Internal Medicine

"Haider Warraich's elegant and poignant book takes us on an unforgettable journey. Warraich's quest is remarkable: he wants us to confront the act of dying. A caring and thoughtful doctor, he also writes beautifully—drawing from his own patients and from statistics, medical ethics, literature and the sciences. He succeeds in humanizing a complex topic and gives us remarkable insights about the changing nature of
'modern death'."—Siddhartha Mukherjee, New York Times bestselling author of The Emperor of All Maladies and The Gene

"Warraich demystifies what is known and unknown about how cells and bodies die, while sensitively grappling with the changing cultural landscape surrounding the end of life, including patients who tweet and share the details of their decline on social media. His story is filled with compassionate accounts of the different ways he has witnessed people meet death in the modern age."—Scientific American

"Medical advances have shifted the boundary between life and death, raising controversial questions for doctors and patients. Physician Haider Warraich zooms in on these issues in Modern Death: How Medicine Changed the End of Life, supplementing medical history with tales from the life-death border that are disturbing, bewildering, and inspiring."—Psychology Today

"Daily exposure to death and the agonies of the bereaved prompted cardiologist Haider Warraich to encapsulate the recent transformation in end-of-life care. The result is rich, splicing harrowing cases from the acute admissions ward into medical history and science as he examines everything from the death of a cell to the impact of death on society."—Nature

"Dr. Haider Warraich has written an extraordinarily informative and reflective book, deftly balancing historical facts, statistics, humanism and masterful story telling. While reading it, I forgot that the subject matter was death as the pages so educated me and enlivened my spirit. Kudos to Dr. Warraich for penning this gift to the reader—a truly illuminating book. It is a gem, one I shall treasure and share with many."—Sanjiv Chopra, MD, Professor of Medicine, Harvard Medical School, bestselling author of Live Better, Live Longer

"Warraich thoughtfully investigates the often alarming realities of death in early 21st-century America. As Warraich eloquently explores the act of dying, he urges the public to talk more about it and pleads for 'resuscitating many of the aspects of death that we have lost.'"—Publishers Weekly (starred review)

"Warraich concludes this sensitive review of a painful subject with guarded optimism that a cultural shift toward open discussion is now occurring. An important contribution to a serious discussion of profound life-and-death issues."—Kirkus Reviews

"Excellent...thoughtful."—Booklist

"While other texts have covered issues of medicine and the end of life, Warraich's goes beyond when discussing the role of the digital sphere plays in grief and memorization. Readers [...] will find an engaging and updated outlook in this work."—Library Journal

"There is no topic more universal—or more universally unnerving—than death. Haider Warrich's Modern Deathis a much-needed exploration of this treacherous territory, offering clear-eyed analysis of what it means to die in America today and how to focus one's own life toward a saner and gentler denouement."—Danielle Ofri, MD, PhD, author of What Patients Say; What Doctors Hear

"An omnivorous, fascinating, free-range romp through the history and co-evolution of death and modern medicine. I devoured it in one sitting."—Katy Butler, New York Times bestselling author of Knocking on Heaven's Door

"This book has something valuable to say to every person alive. Blending wisdom, research, and compassion, Dr. Warraich shines a bright light into a dark reality of human existence. The result is nearly encyclopedic, with an illumination on every page."—Stephen P. Kiernan, author of Last Rights and The Hummingbird


"Melding the curiosity of a historian, the discernment of a physician, and the soulfulness of a poet, Haider Warraich provides us a stunning portrait of death in our moment. The modern aspiration to explicate our suffering collides ironically here with an age-old awe at what can only be deeply felt. In revealing just how breathtakingly far science has taken us in understanding the end of life, Dr. Warraich yet honors the fundamental truth that we may never conquer our mortality—and that in dying, we are most fully human.
"—Rafael Campo, MD, Associate Professor, Harvard Medical School, and author of Alternative Medicine

"From the minutest exploration of how cells die to the larger philosophical questions about life and death, Haider Warraich invites the reader to contemplate the art and science of death and dying. The author brings us through the 'medicalization' of death and returns us to a deep humanity that we seem to have lost along the way. That he does this lyrically and with brilliance, courage, and humility sets this book apart. Modern Death is informative and beautifully written. I couldn't put it down."—Eve Joseph, author of In the Slender Margin

"Warraich delivers a detailed and data-rich study of the history of human death without avoiding the primary characteristics that define the ends of lives today: denial, inequality, overtreatment, and institutionalization. As a growing elder population and rapidly advancing medical technology continue to warp and change health care, doctors serve as our best scouts and guides. Warraich's rich and thorough Modern Death is a necessary contribution to this important canon."—Ann Neumann, author of The Good Death: An Exploration of Dying in America

"Harder Warraich has looked at modern death with the cool eye of a scientist, and the heart of a humane doctor. It's a wonderful combination of history, anatomy, public policy, and storytelling. A warm and thorough guide to living well all the way to the end."—Ellen Goodman, Pulitzer Prize-winning columnist and New York Times bestselling author of I Know Just What You Mean and Paper Trail

"A contemporary Virgil, Dr. Haider Warraich escorts us through the complicated and messy world of modern death. In a smart, contemplative, and appealingly humble voice, he dissects the mysteries of CPR and DNR, brain death, and slow codes, and exposes the bizarre fact that most hospital deaths are handled by the youngest and least experienced doctors. Ultimately, he guides us back to a place where the take-home message remains the same, that at the end of life, being there - with family, with community, with clarity - is what matters now, and forever."—Anna Reisman ,M.D., Director, Humanities in Medicine, Yale School of Medicine

"Modern Death tells the most compelling story: how something that once seemed so simple — the difference between life and death — became so complicated, and so important. Against all odds, Haider Warraich takes on this mammoth subject and explains it with clarity, humor, intelligence and élan. I loved it."—Daniel Wallace, author of Big Fish

"Warraich supplements his research with anecdotes from his personal experience, and draws on literature, theology, statistics and legal theory as well as the hard sciences. The resulting expert opinion is heartfelt, convincing and well informed...a sincere and thorough examination of an often overlooked subject. Well served by Warraich's professional expertise and earnest emphasis, this is an indispensable entry into the conversation about death."—Shelf Awareness