Bone Weaver (Hardcover)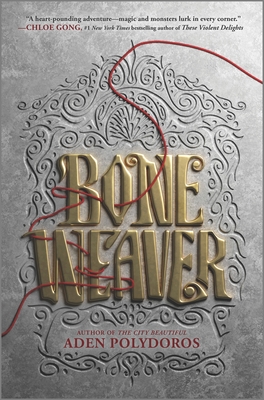 $19.99

Usually Ships in 1-5 Days
Staff Reviews
---
Toma's story begins in isolation, far from the strife of Kosa, in a home clawed out of a blighted land with only the dead for family. However, she finds herself drawn into the conflicts of the outside world when she happens upon the deposed tsar of Kosa, Mikhail, dying in the waste. 
Toma and Mikhail, along with Vanya, a magically gifted commoner exiled from his home for his powers, must work together to save their kingdom from deadly, destructive forces. Only by facing their pasts and being brave enough to imagine a better future will they have a chance of saving each other. 
For fans of the Grishaverse, SPINNING SILVER, THE NEAR WITCH and NETTLE & BONE. Polydoros draws on Slavic myths and the diverse histories of the Russian peoples to craft a sweeping, enthralling world and tell an intimate story about identity: what it means to deprived of it and the power of reclaiming it. 
— Jordan
Description
---
"A heart-pounding adventure. Magic and monsters lurk in every corner as a headstrong trio search for their place in Aden Polydoros's haunting world." --Chloe Gong, #1 New York Times bestselling author of These Violent Delights

From the author of The City Beautiful comes a haunting fantasy following Toma, adopted daughter of the benevolent undead, making her way across a civil war-torn continent to save her younger sister as she discovers she might possess magical powers herself.

The Kosa empire roils in tension, on the verge of being torn apart by a proletarian revolution between magic-endowed elites and the superstitious lower class, but seventeen-year-old Toma lives blissfully disconnected from the conflict in the empire with her adoptive family of benevolent undead.

When she meets Vanya, a charming commoner branded as a witch by his own neighbors, and the dethroned Tsar Mikhail himself, the unlikely trio bonds over trying to restore Mikhail's magic and protect the empire from the revolutionary leader, Koschei, whose forces have stolen the castle. Vanya has his magic, and Mikhail has his title, but if Toma can't dig deep and find her power in time, all of their lives will be at Koschei's mercy.

Praise for The City Beautiful
"An achingly rendered exploration of queer desire, grief, and the inexorable scars of the past."
--Katy Rose Pool, author of There Will Come A Darkness

"Chillingly sinister, warmly familiar, and breathtakingly transportive, The City Beautiful is the haunting, queer Jewish historical thriller of my darkest dreams." --Dahlia Adler, creator of LGBTQreads and editor of That Way Madness Lies