Harry Potter and the Cursed Child, Parts One and Two: The Official Playscript of the Original West End Production (Hardcover)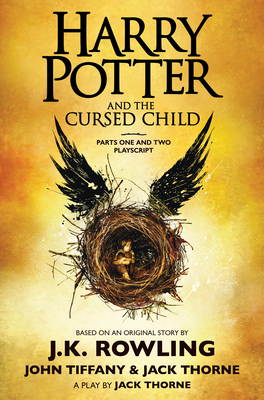 $29.99

Usually Ships in 1-5 Days
Staff Reviews
---
The Book Seller is excited to announce that we will be hosting a midnight release party for this epic eighth story! Click here for all the details.
Description
---
The Eighth Story. Nineteen Years Later. Based on an original story by J.K. Rowling, John Tiffany, and Jack Thorne, a play by Jack Thorne.It was always difficult being Harry Potter and it isn't much easier now that he is an overworked employee of the Ministry of Magic, a husband, and father of three school-age children.While Harry grapples with a past that refuses to stay where it belongs, his youngest son, Albus, must struggle with the weight of a family legacy he never wanted. As past and present fuse ominously, both father and son learn the uncomfortable truth: Sometimes, darkness comes from unexpected places.The playscript for Harry Potter and the Cursed Child was originally released as a "special rehearsal edition" alongside the opening of Jack Thorne's play in London's West End in summer 2016. Based on an original story by J.K. Rowling, John Tiffany, and Jack Thorne, the play opened to rapturous reviews from theatergoers and critics alike, while the official playscript became an immediate global bestseller.
About the Author
---
J.K. ROWLING is the author of the enduringly popular, era-defining Harry Potter seven-book series, which have sold over 600 million copies in 85 languages, been listened to as audiobooks for over one billion hours and made into eight smash hit movies. To accompany the series, she wrote three short companion volumes for charity, including Fantastic Beasts and Where to Find Them, which went on to inspire a new series of films featuring Magizoologist Newt Scamander. Harry's story as a grown-up was continued in a stage play, Harry Potter and the Cursed Child, which J.K. Rowling wrote with playwright Jack Thorne and director John Tiffany.
In 2020, she returned to publishing for younger children with the fairy tale The Ickabog, the royalties for which she donated to her charitable trust, Volant, to help charities working to alleviate the social effects of the Covid 19 pandemic. Her latest children's novel, The Christmas Pig, was published in 2021.
J.K. Rowling has received many awards and honours for her writing, including for her detective series written under the name Robert Galbraith. She supports a wide number of humanitarian causes through Volant, and is the founder of the international children's care reform charity Lumos. J.K. Rowling lives in Scotland with her family.
Praise For…
---
Praise for the playscript of Harry Potter and the Cursed Child Parts One and Two"A compelling, stay-up-all-night read... The suspense here is electric and nonstop." -- The New York Times"Fans can breathe easy knowing this play has been respectfully and lovingly wrought. Tensions thrum, spells fly but at center stage, as always in the Potterverse, is the overriding importance of love and friendship, especially in the face of danger." -- Booklist, starred review"Whether encountered on stage or on the page, this trip back into the magical world of Hogwarts is thrilling." -- Telegraph

Praise for the playscript of Harry Potter and the Cursed Child Parts One and Two"A compelling, stay-up-all-night read... The suspense here is electric and nonstop." -- The New York Times"Fans can breathe easy knowing this play has been respectfully and lovingly wrought. Tensions thrum, spells fly but at center stage, as always in the Potterverse, is the overriding importance of love and friendship, especially in the face of danger." -- Booklist, starred review"Whether encountered on stage or on the page, this trip back into the magical world of Hogwarts is thrilling." -- Telegraph