Harry Potter: A History of Magic (American Edition) (Hardcover)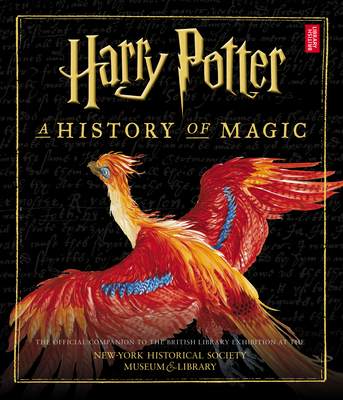 $39.99

Usually Ships in 1-5 Days
Description
---
The official companion book to the special exhibition Harry Potter: A History of Magic, featuring an extraordinary treasure trove of magical artifacts, original drafts and drawings by J.K. Rowling, and additional material exclusive to the US run of this unforgettable exhibition!

As we celebrate the 20th anniversary of Harry Potter and the Sorcerer's Stone in the US, readers everywhere are invited to explore the extraordinary subjects of the Hogwarts curriculum – Potions & Alchemy, Divination, Care of Magical Creatures, and more – and examine incredible historical artifacts, items from J.K. Rowling's personal archive, and stunning original artwork from Harry Potter series artists Mary GrandPré, Jim Kay, and Brian Selznick.

Published in conjunction with the special exhibition Harry Potter: A History of Magic (coming to the New-York Historical Society after a record-breaking sold-out run at the British Library), this complete catalogue of the over 150 artifacts on display gives readers an up-close look at magical treasures from all over the world. Exclusive to the New York run are amazing artifacts from American institutions — including an original Audubon illustration, a narwhal's tusk (or is it a unicorn's horn?), an ancient Iranian astrolabe, and more — as well as never-before-seen original artwork by Mary GrandPré and early correspondence between J.K. Rowling and her American editor, Arthur Levine.

This special publication is an essential volume for Harry Potter fans, history buffs, and bibliophiles, and a fascinating exploration of the history of the magic at the heart of the Harry Potter stories.
About the Author
---
The British Library is the national library of the United Kingdom and one of the world's greatest research libraries. The Library's collection has developed over 250 years and exceeds 150 million separate items representing every age of written civilization and includes books, journals, manuscripts, maps, stamps, music, patents, photographs, newspapers, and sound recordings in all written and spoken languages. Among the greatest treasures in the Library's collection are two copies of the Magna Carta from 1215; the Lindisfarne Gospels; Leonardo da Vinci's notebook; the first edition of the Times (London) from 18 March 1788; manuscripts of the Beatles' lyrics; and the recording of Nelson Mandela's speech given at his trial.