The Honeys (Hardcover)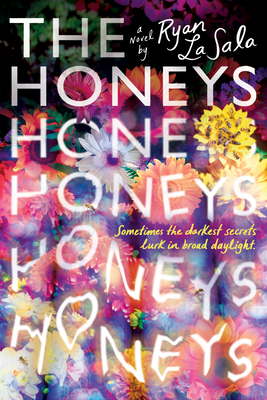 $18.99

Usually Ships in 1-5 Days
Staff Reviews
---
In this twisting YA horror story Ryan La Sala has created an ominous, intriguing world where sickly sweet obscures bitter truth. 
When Mars' twin sister suffers a violent death they feel drawn to investigate. At the seemingly idyllic summer camp she was devoted to Mars finds a strange sisterhood that wields a terrifying power. 
As Mars struggles to untangle the intricate lace of lies they are drawn deeper into a generations-old trap, that of familial expectations and societal demands, an trap which Mars has been trying to escape their whole life. 
— Jordan
When Mars's twin sister dies under mysterious circumstances at a prestigious summer camp he decides to go in her place and see if he can find some clue as to why. But the places of the powerful do not take kindly to interlopers and his sister's friends, the beautiful Honeys, may be hiding a horrific secret.
— From
Book Recommendations for Teenagers 15 & Up
Description
---
From Ryan La Sala, the wildly popular author of
Reverie
, comes a twisted and tantalizing horror novel set amidst the bucolic splendor of a secluded summer retreat.
Mars has always been the lesser twin, the shadow to his sister Caroline's radiance. But when Caroline dies under horrific circumstances, Mars is propelled to learn all he can about his once-inseparable sister who'd grown tragically distant.
Mars's genderfluidity means he's often excluded from the traditions -- and expectations -- of his politically-connected family. This includes attendance at the prestigious Aspen Conservancy Summer Academy where his sister poured so much of her time. But with his grief still fresh, he insists on attending in her place.
What Mars finds is a bucolic fairytale not meant for him. Folksy charm and sun-drenched festivities camouflage old-fashioned gender roles and a toxic preparatory rigor. Mars seeks out his sister's old friends: a group of girls dubbed the Honeys, named for the beehives they maintain behind their cabin. They are beautiful and terrifying -- and Mars is certain they're connected to Caroline's death.
But the longer he stays at Aspen, the more the sweet mountain breezes give way to hints of decay. Mars's memories begin to falter, bleached beneath the relentless summer sun. Something is hunting him in broad daylight, toying with his mind. If Mars can't find it soon, it will eat him alive.
About the Author
---
Ryan La Sala writes about surreal things happening to queer people. He is the author of Reverie and Be Dazzled and lives in New York City. Visit him online at ryanlasala.com.
Praise For…
---
"La Sala gives real-life fears a supernatural twist, cleverly using folk horror and psychological-thriller elements to heighten Mars' understandable tension and infuse this idyllic location with dread....The eerily ambivalent conclusion is pure horror gold."
—Booklist, starred review
"A dark and redolent tale of familial bonds, grief, and a secretive summer camp tucked away in the heart of forests vast and dizzyingly wild. THE HONEYS creeped me out and I loved every moment of it."
—Erin A. Craig, NYT bestselling author of HOUSE OF SALT AND SORROWS
"Novel after novel, La Sala proves himself to be a powerhouse in the YA space worthy of all the flowers that come his way. With crisp prose, a hauntingly stellar cast, and a main character we can't help but root for, THE HONEYS is a perfect successor for fans of MIDSOMMAR and HEREDITARY chomping at the bit for their next great obsession. Just, watch out for the bees."
—Kosoko Jackson, author of YESTERDAY IS HISTORY
"The queer horror hive has a new queen! In THE HONEYS, La Sala pulls readers into a darkly poetic, razor-sharp satire of gender binaries—and the binary of good and evil. A grim, beautiful exploration of the human body, its horrific surprises as well as its transcendent power."
—Adam Sass, award-winning author of SURRENDER YOUR SONS and THE 99 BOYFRIENDS OF MICAH SUMMERS