The Golden Girls Cookbook: More than 90 Delectable Recipes from Blanche, Rose, Dorothy, and Sophia (ABC) (Hardcover)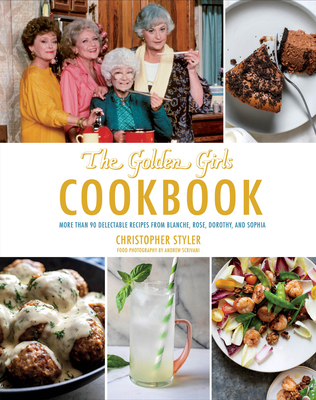 $25.99

Usually Ships in 1-5 Days
About the Author
---
Christopher Styler, head of Freelance Food, LLC, is a cookbook author, R&D chef, teacher, and culinary producer. Trained as a restaurant chef, he has worked in kitchens from Italy to Martha's Vineyard, from Manhattan to Bogotá, Colombia.

Chris is the author or co-author of several books including Primi Piatti, Mom's Secret Recipe File, The Desperate Housewives Cookbook, Sylvia's Soul Food, and The Golden Girls Cookbook. On the video front, Chris has served as culinary producer for nine PBS and Food Network television series, including: Lidia's Italian Table, Julia and Jacques Cooking at Home, and America's Test Kitchen. Chris worked with MasterClass.com on classes featuring Thomas Keller, Dominique Ansel, Madhur Jaffrey, and Massimo Bottura.

Of all Chris's accomplishments, the ability to drop quotes from The Golden Girls into everyday conversations is his proudest.

Andrew Scrivani is a photographer, director, and producer, as well as an internationally recognized workshop instructor, author, and columnist on the subject of visuals. Author of his own book, That Photo Makes Me Hungry, Scrivani also currently is the co-host of The Chef John Podcast and is a community mentor for Adobe Stock.