Rick Riordan Presents: Serwa Boateng's Guide to Vampire Hunting-A Serwa Boateng Novel Book 1 (Hardcover)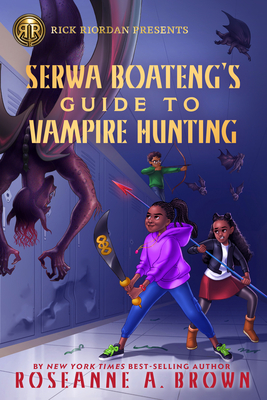 $17.99

Usually Ships in 1-5 Days
Staff Reviews
---
Every new RRP story that comes into the world is magnificently unique and that of vampire slayer Serwa Boateng, steeped in Ghanaian folklore and filled with incredible characters, is no different. Serwa is confident and self-assured, loved and protected by her legendary, vampire-hunting parents. However, when she is forced to leave her family's carefully crafted bubble, she struggles to find her own equilibrium. 
As her world expands, so does Serwa. She goes from being narrowly defined by her skills as a Slayer to someone more complicated and complete. Like any seed, as she begins to put down roots and connect with her newfound friends, Serwa blooms. 
Unfortunately, her blossoming new life is thrown into chaos when family secrets come to light. As with all history, burying the past only creates problems for the future. This story ends with Serwa at a life-changing crossroads and I cannot wait to see where her path goes in the next book. 
— Jordan
The latest from Rick Riordan Presents is based on Ghanaian folklore and follows Serwa as she juggles vampire hunting and starting a new school.
— From
Ages 10 & Up
About the Author
---
Roseanne "Rosie" A. Brown was born in Kumasi, Ghana and immigrated to the wild jungles of central Maryland as a child. Writing was her first love, and she knew from a young age that she wanted to use the power of writing to connect the different cultures she called home. She worked as an assistant teacher, journalist, and editorial intern before writing her first two young adult novels, A Song of Wraiths and Ruin, an instant New York Times best-seller, and A Psalm of Storms and Silence. This is her middle grade debut, and it will be followed by Serwa Boateng's Guide to Witchcraft and Mayhem. Rosie currently lives outside Washington, D.C., where she can usually be found explaining memes to her elderly relatives or thinking about Star Wars. She can neither confirm nor deny if she has ever been possessed by a vampire. Follow her on Twitter @rosiesrambles.
Praise For…
---
"Serwa Boateng's Guide to Vampire Hunting is a thrilling middle grade adventure with a fresh take on vampires and characters that you will not only root for but love with all your heart. This novel had a hold on me from page one. Roseanne really knocked it out of the park!"—Claribel A. Ortega, New York Times best-selling author of Witchlings

"Move over, Buffy! Slide aside, Van Helsing! There's a new slayer in town. Sharp wit and sharp swords will have readers rooting for Serwa!"—Kwame Mbalia, New York Times best-selling author of Tristan Strong Punches a Hole in the Sky

"Rosie writes her characters with such lyrical power, wit, and empathy that you can't help falling in love with Serwa Boateng, her family, and her friends."—Rick Riordan, New York Times best-selling author of the Percy Jackson series