Baby Sign Language Basics: Early Communication for Hearing Babies and Toddlers, Original Diaper Bag Edition (Paperback)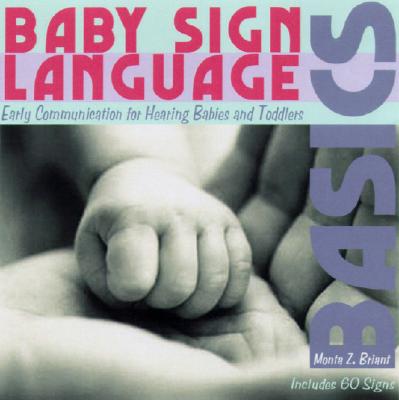 Description
---
Why are thousands of hearing parents signing with their hearing babies? According to a long-term study at UC Davis, funded by the National Institutes of Health, signing babies:
• talk sooner and have larger vocabularies
• have stronger parent/child bonds
• have less frustration, crying and tantrums
• show more interest in books
• engage in more sophisticated play
• have increased IQ scores
Signing also increases baby's self-esteem and gives parents a window into their child's mind and personality.
In Baby Sign Language Basics, parents will learn 60 baby-friendly American Sign Language signs. Baby-specific signing techniques, songs, and games are included to make learning fun and easy, and also open up two-way communication quickly. Baby Sign Language Basics is the perfect baby sign language book for new parents. After all, what parent doesn't want to know what their baby is trying to tell them? (And the book is even small enough for the diaper bag!)
About the Author
---
Monta Briant, a native of San Francisco, and her husband, Paul, of Cape Town, South Africa, began signing with their daughter, Sirena, when she was six months old. The family eventually learned hundreds of signs together. Monta was so moved by the ability to communicate effectively with her then preverbal daughter that she found herself telling anyone pushing a stroller about baby sign language. In 2001, Monta, a former professional yacht captain, decided to make a permanent career change that would enable her to stay home with her daughter, so she founded Baby Sign Language Workshops. An enthusiastic speaker and self-proclaimed "baby sign language evangelist," Monta teaches baby sign language workshops and parent-tot signing classes throughout San Diego County. Baby Sign Language Workshops classes have been the subject of feature stories in the San Diego Union-Tribune and on Fox 6 News. This is her first book.