Baby Sign Language Basics: Early Communication for Hearing Babies and Toddlers, New & Expanded Edition (DVD video)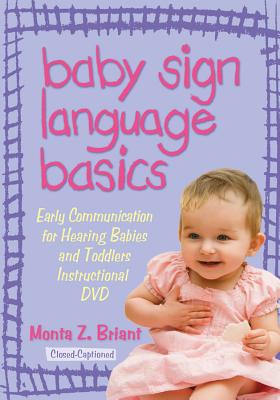 Description
---
Since 2004, Baby Sign Language Basics has introduced hundreds of thousands of parents and caregivers around the globe to the miracle of signing with their babies – and left them wanting more!  In the Baby Sign Language Basics DVD, parents will meet real signing families and learn how to make sign language a part of their every day interactions with their children. Also included on the DVD is a video signing dictionary featuring over 300 American Sign Language (ASL) signs. Just point and click and see the sign you want to learn come alive!
This DVD is a must-have for all parents, grandparents, anyone else who spends time with preverbal children. After all, what parent or caregiver doesn't want to know what their baby is trying to tell them?
About the Author
---
Monta Briant first discovered baby sign language when she was expecting her first child. She began signing with her daughter, Sirena, when she was 6 months old, and was so impressed with the results that she felt compelled to share what her family had learned with other parents and caregivers of young children.
Monta offers classes, workshops, and storytimes throughout San Diego County. Her Baby Sign Language Basics series of products includes everything parents need for signing success, including several books, an instructional DVD, flash cards, and the Songs for Little Hands Music CD and Activity Guide.