Songs for a Teenage Nomad (Paperback)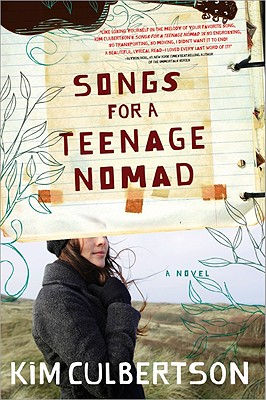 Description
---
"So engrossing, so transporting, so moving, I didn't want it to end! A beautiful, lyrical read—I loved every last word of it!"
—Alyson Noël, #1 New York Times Bestselling Author of The Immortals series
What is the soundtrack of your life?
After living in twelve places in eight years, Calle Smith finds herself in Andreas Bay, California, at the start of ninth grade. Another new home, another new school…Calle knows better than to put down roots. Her song journal keeps her moving to her own soundtrack, bouncing through a world best kept at a distance.
Yet before she knows it, friends creep in—as does an unlikely boy with a secret. Calle is torn over what may be her first chance at love. With all that she's hiding and all that she wants, can she find something lasting beyond music? And will she ever discover why she and her mother have been running in the first place?
"Songs for a Teenage Nomad will send you searching for songs with meaning for the major events of your own life."
—Cindy Hudson, author of Book by Book: The Complete Guide to Creating Mother-Daughter Book Clubs.
"The best kind of song takes you on a roller coaster ride of emotions. It makes you think. You find yourself humming and pondering it for days. Songs for a Teenage Nomad does the book version of this. It's an unforgettable story that music lovers in particular will appreciate, but every teenager trying to find their place in the world should read."
—Stephanie Kuehnert, author of I Wanna Be Your Joey Ramoneand Ballads of Suburbia
About the Author
---
Kim Culbertson has taught high school English, creative writing and drama for over ten years in both public and private schools and sees her writing as an extension of her teaching. She lives in the Northern California foothills with her husband and daughter, where she loves to drink coffee and look at the clouds.
Praise For…
---
"Immediately I was sucked into Calle's head, her music, her story and her voice… I was literally in tears at the end… Read this book if you want something real; if you want it to touch the center of your heart and blossom… If you just want to read a damn good book." — Lit Bites

"This is Culbertson's first novel and like a mixed tape you play over and over, you can fall into the words and lose yourself in their grip." — Bri Meets Books

"This novel deftly explores the search for identity that all teens experience, and adds the challenge of finding out who you are when there are obstacles in the way." — Ms. Yingling Reads

"The use of songs and lyrics to guide the story creates a new rhythm in each chapter." — Spot to Read

"Both music and words flow beautifully throughout Songs for a Teenage Nomad, written by Kim Culbertson. The songs lead the reader into the story linking the past to the present and in so doing, build a fragile connection between a mother and a daughter. I'm fourteen and my Mom is thirty-nine and we both loved it! We can't wait for her next book!" — Mother Daughter Book Club

"Wow. This book was just...fantastic. Fexcellent, fawesome, and every other good adjective that starts with 'f.'" — Frenetic Reader

"I seldom review books for young adults but recently read a YA novel that's so good it had to be shared. Songs for a Teenage Nomad by Kim Culbertson [is]… so beautifully written I couldn't resist telling you about it. The plot is exciting, the characters are realistic, and the writing is beautiful and poetic. I highly recommend this book for teens who like to read." — On Words

"It's an unforgettable story that music lovers in particular will appreciate, but every teenager trying to find their place in the world should read because they will definitely relate to Calle." — Life, Words, & Rock 'n' Roll