Nolo's Guide to Social Security Disability: Getting & Keeping Your Benefits (Paperback)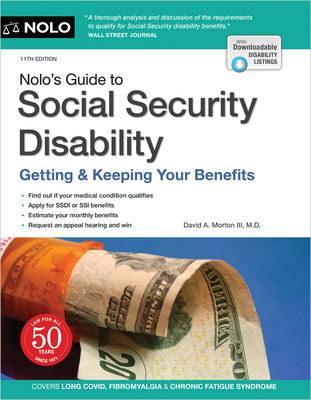 $39.99

Usually Ships in 1-5 Days
Description
---
Qualify for Social Security disability benefits, quickly and easily

This comprehensive and compassionate book covers both SSDI and SSI, shows you how to prove a disability, and explains how your age, education, and work experience affect your chances. Parents will find special information about benefits available to children with a disability.


Learn how to:



find the disability criteria for your medical condition

prove the severity of your disability

appeal if you're denied benefits

work part time while keeping your benefits

prepare for a Continuing Disability Review,

and more.


Plus, this book is packed with filled-in samples of all the forms you'll need, including the SSDI and SSI disability applications.


This new edition includes:



a new discussion of getting disability for Post-Acute COVID Syndrome (PACS)

explanations of Social Security's updated medical listings for back pain, musculoskeletal disorders, rheumatoid arthritis, scleroderma, Raynaud's phenomenon, polymyositis, and dermatomyositis.

With Downloadable Disability Listings
Find out if your medical condition qualifies under one of Social Security's 200 disability listings (details inside).